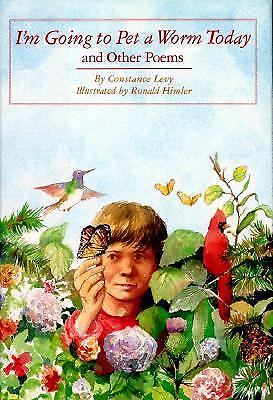 Constance Levy
I'm Going to Pet a Worm Today: And Other Poems
I'm Going to Pet a Worm Today: And Other Poems  By: Constance Levy
VERY GOOD To LIKE NEW Condition (SIGNED BY AUTHOR)
Thirty-nine poems about everyday things, mostly nature, from leaves on trees to eating peas and petting worms.
Editorial Reviews
From School Library Journal
Grade 3-5-- " . . . my favorite place / is out : out where / the world is showing. / I don't care if a / storm is blowing. / Step aside in because I am going / out !" Out is where Levy finds a little beetle that "glows/ with emerald fire," an ant that can't resist collecting odd things, a spider who has tied one blade of grass to another, crusted snow that breaks in "Two/ Brand-new/ White feet," and a bucket full of water that "looks thin/but weighs thick." Levy's first book of poetry brings to mind the works of such poets as Aileen Fisher and Lillian Moore, who share Levy's pleasure in nature. Still, she has a clear vision of her own and often the objects and events described take on fresh meaning through her eyes. Most important are the authentic, childlike perceptions and voices found in these short, thoughtful selections. Himler's attractive pen-and-ink drawings are understated and provide appropriate and unobtrusive accompaniment to the verses. --Ann Stell, The Smithtown Library, NY
Copyright 1991 Reed Business Information, Inc.
From Kirkus Reviews
In her first book for children, Levy offers an outstanding collection of 39 poems, most of them about the natural world as it might be observed by a child. Whether painting a precise verbal picture of a robin drinking (``From a tiny little chip/in the middle of a step/where a thimbleful of water/from the sprinkler collects...''), spinning an image that's part humor and part wonderment (``Sunset mixed this recipe:/Orange and grape and raspberry...Too, too tempting/Don't you think/All that orange and/All that pink...Night came sniffing/Like a pup;/licked it/liked it/lapped it up!''), or mimicking pecking birds (``We split the seeds/We pick the pits/We poke about for favorites...''), the poet understands just what will amuse, sees it with a clear eye, and presents it in a fresh voice whose clarity and natural, impeccably graceful cadences recall Valerie Worth's brief poems. A splendid debut, in a graciously open format enhanced by Himler's delicately understated drawings. (Poetry. 5-10)
Product details
 Publication Year:               1991       Publisher:             McElderry Books, Margaret K.
Format:                Hardcover           Weight: 0.8 lbs
Language:            English  Product Group:  Book
Binding:                Library Binding IsTextBook:         No
Author: Ronald Himler; Constance Levy   ISBN:    
9780689505355
EAN:     
9780689505355
---
More from this collection