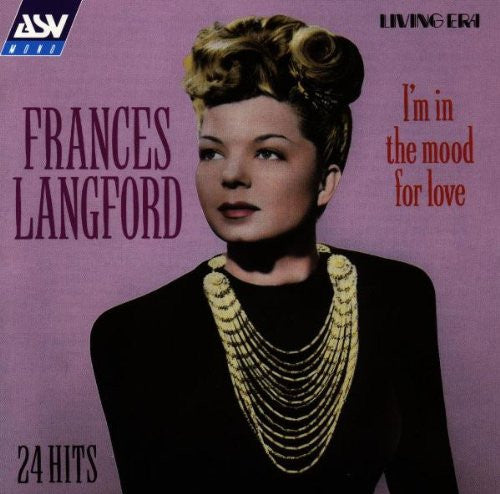 Frances Langford
Frances Langford - I'm in the Mood for Love
I'm in the Mood for Love  
By: Frances Langford

Very Good Condition
A Review:
I'm not going to carp about the sound quality. We are so used to 12 speaker stereo booming into our very souls that anything less is unacceptable. The songs on this disc are from the 78rpm era and they sound like it. It also captures an era long gone when music was for sophisticated mature adults. With lyrics that are catchy and say something. Even the novelty songs have a certain grown up flair. Ok so maybe "Mairzy Doats" doesnt qualify but most of the music had a sophistication that is certainley missing today. Anyway Frances Langford not only had the look of an angel but the voice of an angel. Moonglow, So Many Memories,At Last show off her uncanny ability to use 'mezza voce' to caress the melodic line like no other singer. She makes even material that is less than first rate unforgettable. Her tone is so rich, so pure that not even the scratchy surface noises can dim her luster. This is a voice for the ages, for anyone who is captivated by hauntingly beautiful sound and full command of her art. For those of you that have never heard 'Blue Moon' except by the Marcels or whoever they were, listen to what it should sound like as done by Frances Langford. I highly recommend this CD and all of her others. A voice like this will never come along again.
Track Listings
  1. I'm In The Mood For Love

  2. I Feel A Song Coming On

  3. Is It True What They Say About Dixie?

  6. Swingin' The Jinx Away

  9. I'm Getting Sentimental Over You

  15. Falling In Love With Love

  18. When You Wish Upon A Star

  19. In The Cool Of The Evening

---
Product details
Audio CD (August 19, 1997)
Number of Discs: 1
Label: ASV / Living Era
ASIN: B000001HK1
---
More from this collection