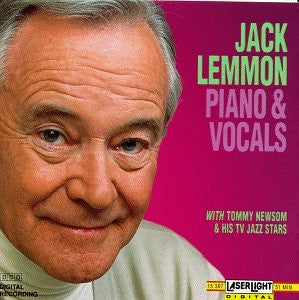 Jack Lemmon
Jack Lemmon - Jack Lemon Piano & Vocals
Jack Lemon Piano & Vocals
By Jack Lemmon
Very Good Condition
A Review:
I've always admired Jack Lemmon's art as an actor -- his was understated, gentle genius in which an actor's actor could easily find much to admire. With each new character he played, he brought unique depth and freshness that stamped it with his own incredible gifts no one else could have delivered quite the same!

And so it is with each cut of this CD -- each is yet another incredible glimpse of his humongous talent, that obviously didn't end with his acting!

He starts out with "Getting Some Fun Out Of Life" which is delivered in off-the-cuff frankness that has you feeling he's just sitting across from you sharing his feelings of the moment -- a happy little tune that he sings with honesty and no pretense, just easy, breezy, laid-back whimsy.

But hold onto your hats! When he begins to play the PIANO! WOW!

There are tunes in here so poignant, and so touching, they'll almost have you in tears ... "Nevermore" is a shining example. It is SO GORGEOUS, in fact, you want to stop the CD and just hear that one flash of brilliance over again, just to comprehend what you've heard -- DID you actually hear this, or was it your imagination -- honestly, I couldn't believe how beautiful it was. It's almost "chopin-esque" in its difficulty, yet, so easily does Jack float across the keys, you can't appreciate the difficulty, unless you're a pianist who spent many hours of practice, yourself, and would know how masterfully this wonderful tune has been rendererd.

His ensemble of accomplished jazz musicians on this album also bring much to this recording. Together, they bring a WONDERFUL new slant. A great example is what they do to their "Silent Night Blues" Jack Lemmon has written another bluesy cut for this CD "J.L's Blues" which will have you up and boogying -- you can't sit still to this one, I guarantee!

The refreshing handling of some old favorites like "Here's That Rainy Day" and "Georgia On My Mind" brings this album into an art category that will have you wanting to share it with all of your "real musician" friends who can appreciate just what it is you're hearing on this album.

As to the singing portions, Jack brings his acting talent into each song and gets meaning across with the easy honesty and bare-faced frankness that you expect from this "old friend" the movie scene was so enriched by. You feel like you've had an hour in Jack's living room with him and his musician pals, and you're getting to know him on a much deeper level

From start to finish, I found this album a treat, and a golden work of art. It sits in a place of honor on my shelf with his movies that are among my favorites! I will be sharing it with special friends for many years to come! I hope you will too -- get set! It's TERRIFIC!
Track Listings
  1. Getting Some Fun Out Of Life

  7. Pack Up Your Troubles In Your Old Kit Bag And Smile, Smile, Smile

  10. On The Sunny Side Of The Street

  13. (Back Home Again In) Indiana

---
Product details
Audio CD (March 19, 1991)
Number of Discs: 1
Label: Delta
ASIN: B000001VOB
---
More from this collection