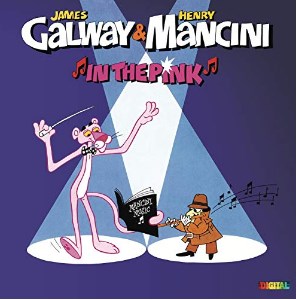 James Galway & Henry Mancini
James Galway & Henry Mancini - In The Pink
In the pink,
By  James Galway & Henry Mancin
rare audio cd; 1984 RCA edition with 13 tracks; disc is in perfect condition; inserts are complete and mint!,
A Review:
For fans of Henry Mancini's film music, or James Galway's skilled flute playing, IN THE PINK will make a nice addition to your collection. The tracks on it are: 1.The Pink Panther, 2.Meggie's Theme (from The Thorn Birds), 3.Breakfast at Tiffany's, 4.Pennywhistle Jig (from The Mollie Maguires), 5.Crazy World (from Victor/Victoria), 6.The Thorn Birds Theme, 7.Pie in the Face Polka (from The Great Race), 8.Baby Elephant Walk, 9.Two for the Road, 10.Speedy Gonzales, 11.Theme from The Molly Maguires, 12.Medley: Days of Wine and Roses/Charade/Moon River, and 13.Cameo for Flute....for James. Henry Mancini is listed as composer or co-composer of all of these, as well as arranger and conductor.

I don't know what the criteria were for the music selection, as I don't believe they're a "greatest hits" of Mancini. Unfortunately, there are no notes included to explain this or other aspects of the album. The music has a good variety in terms of tempo and style, though overall it's pretty mellow. Lots of beautiful melodies here, not surprising coming from Mancini. Also, it's fun to hear these pieces arranged for flute and The National Philharmonic Orchestra, and Galway as usual is a terrific flutist. The CD runs about 43 minutes. It's not stated whether the original recording was digital, but I would assume so, coming from RCA in 1984. Though IN THE PINK is not a spectacular album, it's very enjoyable to listen to, and is suitable either for someone with no other Mancini music, or for someone with a lot.
Tracklist
Tracklist
The Pink Panther

Meggie's Theme

Breakfast At Tiffany's

Pennywhistle Jig

Crazy World

"The Thorn Birds" Theme

Pie In The Face Polka

Baby Elephant Walk

Two For The Road

Speedy Gonzales

Theme From "The Molly Maguires"

Medley: Three By Mancini And Mercer

Days Of Wine And Roses

Charade

Moon River

Cameo For Flute "...For James."
Product details
Original Release Date: October 3, 2014
Release Date: April 7, 2015
Label: RCA Victor
Copyright: (P) 1984 BMG Entertainment
Record Company Required Metadata: Music file metadata contains unique purchase identifier. Learn more.

Total Length: 42:26

Genres:
---
More from this collection