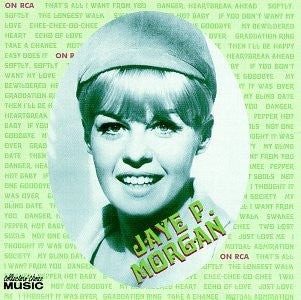 Jaye P.Morgan
Jaye P. Morgan - Jaye P. Morgan on RCA
Jaye P. Morgan on RCA
By Jaye P. Morgan
Very Good Condition
A Review:
Jaye P. Morgan always sang so beautifully; I still love to hear her sing. This is a very good album for her fans even if it doesn't include all her hits while she recorded at RCA. The quality of the sound is excellent and Jaye P. is in excellent form throughout this album; and that's grand.

We get twenty songs and ballads on this album; and there's not a dud in the bunch. I like the way the CD opens with "That's All I Want from You" Jaye P. performs this masterfully and she never skips a beat! She also handles complex tempo and key changes like the pro she always was--I love it! The backup chorus harmonizes beautifully but Jaye P. Morgan never needed it--her talent easily carried her through every time. "Danger, Heartbreak Ahead" is extremely well done; that flute enhances the musical arrangement all the more.

"Softly, Softly" is easy on the ear; and Jaye P. Morgan does her usual best on numbers like ""The Longest Walk" which is so poignant; "Swanee" with that brass and backup chorus; "Pepper Hot Baby (I Wanna Go Where You Go -- Do What You Do)" with that dynamic arrangement; "If You Don't Want My Love" which features Jaye P. Morgan squarely in the spotlight with wonderful music to accompany her as she sings; the upbeat "Chee-Chee-Oo-Chee (Sang the Little Bird)" which she does with Perry Como and "Two Lost Souls" which again pairs her with Perry Como.

"Not One Goodbye" has Jaye P. Morgan in her natural element; she handles this wonderfully. The strings add to a fine musical arrangement. "My Bewildered Heart" and "Echo of Love" impress me even though they could have toned down the backup chorus on "Echo of Love" a bit; and I really like "Just Love Me," a song with which we all can identify sooner or later.

"I Thought It Was Over" gets the royal treatment from Jaye P.; and that piano playing adds to the memorable effect. "Graduation Ring" shines in her capable hands; and listen for Jaye P. Morgan to perform "Take a Chance" with panache. Her sophisticated phrasing enhances her performance all the more, too. "Mutual Admiration Society" is another duet, this time with Eddy Arnold; and "My Blind Date" has a very sensitive treatment. "Then I'll Be Happy" is excellent music; and the CD ends with Jaye P. Morgan performing a splendid rendition of "Easy Does It."

Jaye P. Morgan remains one of the great songbirds of the twentieth century; and albums like this one prove it. Her fans will love this; and it's even a good CD for newcomers just discovering the magical artistry of Jaye P. Morgan.
Tracklist.
 1. That's All I Want From You

  2. Danger! Heartbreak Ahead

  6. Pepper Hot Baby (Wanna Go Where You Go-Do What You Do)

  7. If You Don't Want My Love

  8. Chee-Chee-Oo-Chee (Sang The Little Bird)

  14. I Thought It Was Over

  17. Mutual Admiration Society

Product details
Audio CD (April 21, 1998)
Number of Discs: 1
Label: Collector's Choice
ASIN: B000003963
---
More from this collection