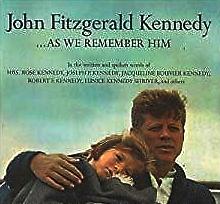 Goddard Lieberson
John Fitzgerald Kennedy ... As We Remember Him By Goddard Lieberson
John Fitzgerald Kennedy ... As We Remember Him
by Goddard Lieberson 
Good condition, showing slight wear due to age, Large, attractive coffee table book, Approx. 12 x 12
Book Overview
Foreword by President Lyndon Johnson, collection of family photos and remembrances of JFK, as well as a collection biographical highlights along with state visits and speeches given.
First Edition, 1965. Hardcover with nice dust jacket. Approximate size, 12 x 12. Has light gray endpages. Contains black and white illustrations. Foreword by Lyndon B. Johnson. This book was written in the words of "Alistair Cooke, W. Averell Harriman, Mrs. Rose Kennedy, Robert F. Kennedy, Jacqueline Kennedy, Pieire Salinger, Arthur Schlesinger, Jr., Adlai E. Stevenson.
Edition Details
Format:Hardcover
Language:English
ISBN:B000O5SI0U
ISBN13:9781111156831
Release Date:January 1965
Publisher:Atheneum
Length:241 Pages
Weight:2.00 lbs.
---
More from this collection