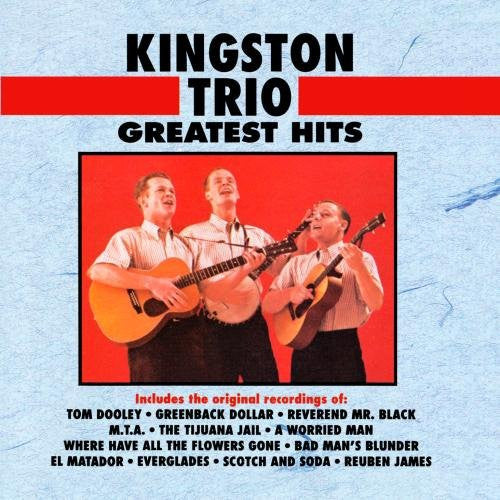 Kingston Trio
Kingston Trio - Greatest Hits
Greatest Hits
By  Kingston Trio 
Very Good Condition
By 1958 "Tom Dooley" was already in circulation in the growing folk movement, but it was the Kingston Trio's hit that ignited the boom. These three clean-cut Hawaii residents may not have looked like accomplished musicians, but they were. David Guard first learned the open-G Hawaiian guitar and took up the banjo after a Weaver's concert; lead singer Bob Shane was much influenced by Harry Belefonte, and he sang with studied clarity; and Nick Reynolds contributed steady, old-timey guitar and signature harmony. Most of what the neophyte needs is here: "Tom Dooley," "Greenback Dollar," and the Carter Family tune, "Worried Man." --Roy Francis Kasten
A Review
Despite what the insert notes, and the group's official website claim, the Kingston Trio did not really launch the folk revival (Lonnie Donegan had already had a major hit with Rock Island Line in 1956) but you could say they revved it up and sent it full steam ahead. The trio -- old school and college friends -- emerged in 1957 in San Francisco and, nearly 50 years later, are still going, although of course with none of the original members.

Their greatest influences were The Weavers and Harry Bellafonte, both these influences clearly apparent in this collection. They gave traditional music a smoother sound and added some college-boy humor and a touch of innocuous, fifties style rebellion. This resulted in great live performances and soon secured them a wider audience through their recordings. In turn this music would lead to the full-blown folk-pop of Peter, Paul & Mary, The New Christy Minstrels, et al.

They were performers, not writers, except that Dave Guard co-wrote A Worried Man and solo-wrote Scotch and Soda. This latter song is very different from the others, being the sort of ballad that could have been (and probably has been) sung by Sinatra or Como or one of the other crooners of the day.

This is a bargain-priced CD giving you all the hits of the original lineup and if you are even remotely a folk fan you will want to hear it.
Track Listings
  7. Where Have All The Flowers Gone

---
Product details
Audio CD (July 22, 2011)
Original Release Date: 1991
Number of Discs: 1
Label: CURB
Run Time: 35 minutes
ASIN: B000000CX8
---
More from this collection