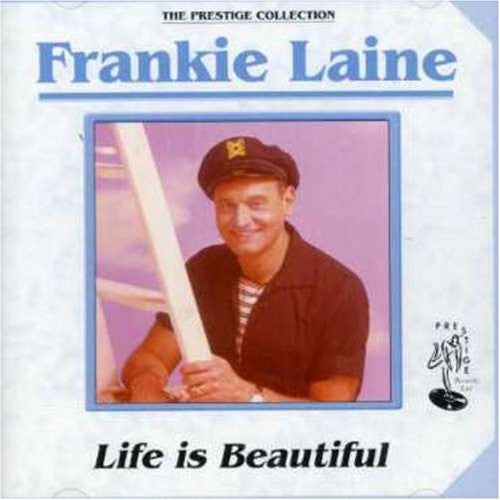 Frankie Laine
Frankie Laine - Life Is Beautiful
Life Is Beautiful
Bu Frankie Laine
Good Condition
Track Listings
  6. The Only Thing That Matters

  7. If I Never Sing Another Song

  9. I Don't Like Singing Anymore

  10. Sunday Morning Coming Down

---
Product details
Audio CD (April 6, 1999)
Number of Discs: 1
Label: Prestige
ASIN: B00000I8MM
About Frankie Laine:
Frankie Laine, born Francesco Paolo LoVecchio (Chicago, March 30, 1913), was one of the most successful American singers of the twentieth century. Often billed as America's Number One Song Stylist, his other nicknames include Mr. Rhythm, Old Leather Lungs, and Old Man Jazz. His hits included "That's My Desire", "That Lucky Old Sun", "Mule Train", "Cry of the Wild Goose", "Jezebel", "High Noon", "I Believe", "Hey Joe!", "The Kid's Last Fight", "Cool Water", "Moonlight Gambler", "Love is a Golden Ring", "Rawhide", and "Lord, You Gave Me a Mountain".
His career as an entertainer spanned approximately 75 years, from 1930 (when he sang in between sets with a marathon dance company) to 2005 (when he sang "That's My Desire" in a PBS special).
A clarion-voiced singer with lots of style, able to fill halls without a microphone, and one of the biggest hit-makers of late 1940s/early 1950s, Laine had more than 70 charted records, 21 gold records, and worldwide sales of over 250 million disks. Originally a rhythm and blues influenced Jazz singer, Laine excelled at virtually every music style, eventually expanding to such varied genres as popular standards, gospel, folk, country, western/Americana, rock 'n' roll, and the occasional novelty number. He was also known as Mr Rhythm for his driving jazzy style.
Laine was the first and biggest of a new breed of black-influenced singers who rose to prominence in the post-World War II era. This new, raw, emotionally charged style seemed at the time to signal the end of the previous era's singing styles; and was, indeed, a harbinger of the rock 'n' roll music that was to come. As music historian Jonnie Whiteside wrote:
In the Hollywood clubs, a new breed of black-influenced white performers laid down a baffling hip array of new sounds ... Most important of all these, though, was Frankie Laine, a big white lad with 'steel tonsils' who belted out torch blues while stomping his size twelve feet in joints like Billy Berg's, Club Hangover and the Bandbox. ... Laine's intense vocal style owed nothing to Crosby, Sinatra or Dick Haymes. Instead he drew from Billy Eckstine, Joe Turner, Jimmy Rushing, and with it Laine had sown the seeds from which an entire new perception and audience would grow.
... Frank Sinatra represented perhaps the highest flowering of a quarter century tradition of crooning but suddenly found himself an anachronism. First Frankie Laine, then Tony Bennett, and now Johnnie (Ray), dubbed 'the Belters' and 'the Exciters,' came along with a brash vibrancy and vulgar beat that made the old bandstand routine which Frank meticulously perfected seem almost invalid.
In the words of Jazz critic Richard Grudens:
Frank's style was very innovative, which was why he had such difficulty with early acceptance. He would bend notes and sing about the chordal context of a note rather than to sing the note directly, and he stressed each rhythmic downbeat, which was different from the smooth balladeer of his time.
His 1946 recording of "That's My Desire" remains a landmark record signalling the end of both the dominance of the big bands and the crooning styles favoured by contemporaries Dick Haymes and Frank Sinatra. Often called the first of the blue-eyed soul singers, Laine's style cleared the way for many artists who arose in the late 40s and early 50s, including Kay Starr, Tony Bennett, Johnnie Ray and Elvis Presley (who was initially described by critics as "a cross between Johnnie Ray and Frankie Laine").
I think that Frank probably was one of the forerunners of .... blues, of .... rock 'n' roll. A lot of singers who sing with a passionate demeanour -- Frank was and is definitely that. I always used to love to mimic him with 'That's...my...desire.' And then later Johnnie Ray came along that made all of those kind of movements, but Frank had already done them. -- Patti Page
Throughout the 1950s, Laine enjoyed a second career singing the title songs over the opening credits of Hollywood films and television shows, including: Gunfight at the OK Corral, 3:10 to Yuma, Bullwhip and Rawhide. His rendition of the title song for Mel Brooks' 1974 hit movie Blazing Saddles won an Oscar nomination for Best Song, and on television, Laine's featured recording of Rawhide for the series of the same name became a popular theme song.
You can't categorize him. He's one of those singers that's not in one track. And yet and still I think that his records had more excitement and life into it. And I think that was his big selling point, that he was so full of energy. You know when hear his records it was dynamite energy.-- Herb Jeffries
---
More from this collection