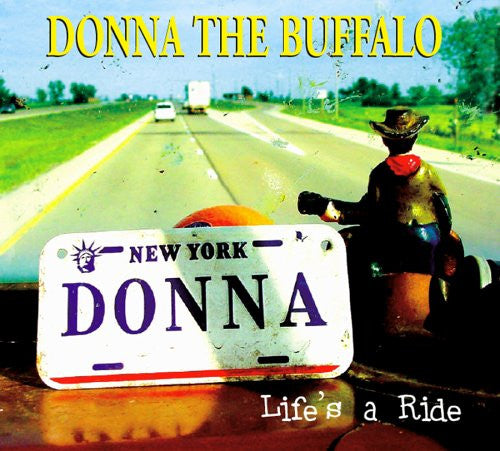 Donna The Buffalo
Donna The Buffalo - Life's a Ride
Life's a Ride
By Donna The Buffalo
Very Good Condition in original cardboard case
A Review:
For the last twenty years or so, Donna the Buffalo has been playing some of the most sincere, heartfelt, and giddy music to come out of any genre. And that's not to say that they have a one particular genre of their own: quite the contrary - not even the most rigid categorist could pigeonhole this Trumansburg, N.Y. sextet. Joyfully, they make us dance to the sounds of rock-a-billy, zydeco, reggae, roots, bluegrass, blues, and countless others.

I grew up in the Fingerlakes region of Upstate New York, in the land where Donna the Buffalo formed and quickly gained legions of faithful back in the mid-eighties: a time when most folks were chanting the mantra "me, me, me" - Donna the Buffalo started making music that said - and made everyone else say - "us, us, us." Their music is communalistic and loving, but far from corny idealism. And weather they are playing for a small crowd of a few hundred, or a large festival of many thoousands, it always feels like a mid-summer backyard get together with your closest friends.

Donna's newest album, "Life's a Ride", is a joyous continuation of what all of us Donna fans - old and new - have been enchanted by for years: shameless positivity, hypnotizing groove, and the uplifting of the human spirit. Try not to grin and abandon all pretense during "Way Back When" or "Blue Sky" - or the Zydeco of "Walk on Water". On the mellow side, "Rockin' Horse" is sure to be a new Jeb Puryear classic.

If you're new to Donna, you can't go wrong starting with any of their CD's (although I particularly reccomend Live from the American Ballroom). They are all perfect examples of the love and joy that this band exists to fill us with.
Tracklist
1     Way Back When3:33
2     Blue Skies3:58
3     Rockin' Horse4:29
4     Life's A Ride3:14
5     Everyday4:51
6     Love And Gasoline3:35
7     Deeds Of A Frew3:49
8     Rock Of Ages3:38
9     These Are Better Days4:22
10   When Love Comes Around3:54
11   Greatest Love3:27
12   Walk On Water3:20
Product details
Audio CD (April 26, 2005)
Number of Discs: 1
Label: Reincarnate Music
ASIN: B0008ENJ1U
---
More from this collection