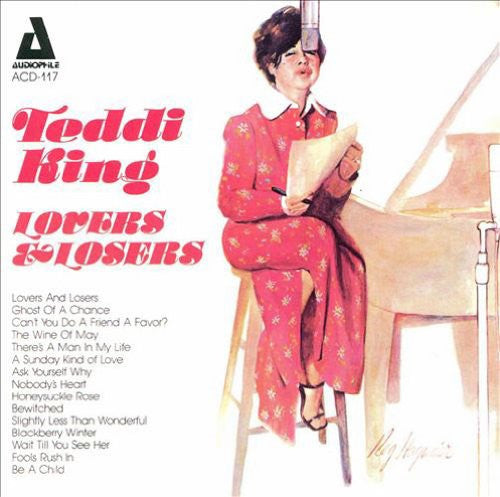 Teddi King
Teddi King - Lovers and Losers
Lovers and Losers
By   Teddi King
Very Good Condition
A Review:
This review is for the Teddi King CD `Lovers And Losers` - if Amazon chooses to also place it under a a completely different album there is precious little I can do about that - so please don`t assign a `no`vote for something over which I have no control!

Teddi King (born Theodora King in Boston, Massachusetts on September 18, 1929), a jazz/pop vocalist from the late 1940s/early 1950s, cut two LPs for Audiophile in the year before her premature death on November 18, 1977 at age 48 from complications associated with Lupus, and here you get the full contents in CD format of the first one, titled Lovers And Losers, which came out in 1978 on Audiophile 117 with the backing of The Loonis McGlohon Trio (McGlohon on piano, Mel Alexander on bass, and Jim Lackey on drums). The contents are: 1. Lovers And Losers; 2. A Ghost Of A Chance; 3. Can't You Do A Friend A Favor?; 4. The Wine Of May; 5. There's A Man In My Life; 6. A Sunday Kind Of Love; 7. Ask Yourself Why; 8. Nobody's Heart; 9. Honeysuckle Rose; 10. Bewitched, Bothered And Bewildered; 11. Slightly Less Than Wonderful; 12. Blackberry Winter; 13. Wait Till You see Her; 14. Fools Rush In; 15. Be A Child.

A prolific recording artist in her younger days for such as Storyville, RCA Victor and Coral, she had been away from the studios for some 14 years (she spent a good portion of that time performing exclusively in various Playboy Clubs) before resuming that part of her career in the year of her death with Inner City Records, founded in 1976 by Irv Kratka and Eric Kriss, where she cut This Is New (Teddi King Sings Ira Gershwin) in collaboration with renowned jazz pianist Dave McKenna, before doing two more for Audiophile.

Whether performing a slow jazz tune like Blackberry Winter or an uptempo swing version of Honeysuckle Rose (she clearly loved Fats Waller as she also includes two more of his lesser-known compositions - There's a Man in My Life and Slightly Less Than Wonderful), it's easy to see why she was highly regarded by her peers as a "singer's singer" - even though the effects of the disease had considerably lowered the timbre of her voice compared to her days with Storyville, RCA and Coral.

If you like this album, be sure to check out her other material available through Amazon, especially the one title Teddi King - Mr. Wonderful:The Complete RCA Singles (1956-1958) which contains both sides of her three hit singles in 1956/57.
Tracklist

| | | |
| --- | --- | --- |
| 1 | Lovers And Losers | 2:25 |
| 2 | A Ghost Of A Chance | 2:42 |
| 3 | Can't You Do A Friend A Favor? | 2:48 |
| 4 | The Wine Of May? | 2:57 |
| 5 | There's A Man In My Life | 2:29 |
| 6 | A Sunday Kind Of Love | 2:49 |
| 7 | Ask Yourself Why | 1:51 |
| 8 | Nobody's Heart | 2:10 |
| 9 | Honeysuckle Rose | 3:31 |
| 10 | Bewitched | 3:13 |
| 11 | Slightly Less Than Wonderful | 2:05 |
| 12 | Blackberry Winter | 3:20 |
| 13 | Wait Till You See Her | 2:48 |
| 14 | Fools Rush In | 3:15 |
| 15 | Be A Child | 2:32 |
---
More from this collection