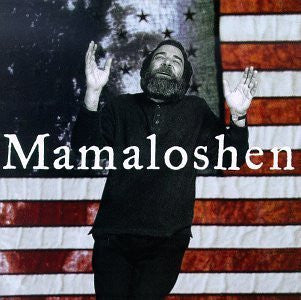 Mandy Patinkin
Mandy Patinkin - Mamaloshen
Mamaloshen     (Yiddish)
By Mandy Patinkin
Very Good Condition
A Review:
Read on - and then think about that word, Yinglish, in the context of this CD and think about whether it is worth Kvetching about the various songs on this CD, some quite unconventional.

For those who haven't heard the word, Yinglish was used by Leo Rosten in a book called The Joys of Yiddish (others have used it, too) and it describes how YIDDISH speakers have continued to let Yiddish words (and the language itself) change and mingle with words from other countries. As a result, in the natural course of things, Yiddish spoken in America may sound VERY different from the way Yiddish is used and spoken in Israel. This type of thing happens in ALL languages, including English. We have words like "Phat" and "fat", for example, relatively recent evolutions of words and word usage. You can't keep language from evolving....or music or Yiddish music, for that matter...or how Yiddish is used in song. To do so would stifle the creative process.

HOW DOES THIS RELATE TO THIS CD? (sorry for the caps but I really do want to stress this question): Some Yiddish "traditionalists" seem to be ambivalent about a "Yiddish" song compilation that includes songs from Mary Poppins as well as the more traditional songs - all translated into Yiddish.

I find it refreshing. I can see why some believe it might even water down Yiddish - but let's face it- Yiddish speakers have had a hard time keeping the language alive and many speakers have changed or loosened certain terms or words, anyway - so why can't a singer? At least, Pantinkin does it with a certain humor and reverence. Listen to the music and I think you'll agree.

And yes....Mandy Pantinkin can be over the top, sometimes (also known as "a willingness to take creative risks") but I think his voice is superb here, his timing and emotional resonance are lovely and the selections are fun to listen to, even moving (depending on the tune). Whenever I play it at a party or with friends and family, it has helped spark conversations about Yiddish. So how can it be hurting Yiddish?
Tracklist
1

Belz

Orchestrated By [Orch.] – Larry Hochman Vocals [Duet With] – Judy Blazer*Written-By – Alexander Olshanetsky, Jacob Jacobs

3:19
2

Hey, Tsigelekh

Written-By – Mordecai Gebirtig*

3:07
3

Rabbi Elimeylekh

Written-By – Moshe Nadir

3:34
4

Raisins And Almonds

Written-By – Abraham Goldfaden, Henry Lefkowitch, Stanley Lionel

2:51
5

Papirosin

Orchestrated By [Orch.] – Bruce Coughlin Written-By – Herman Yablokoff

5:51
6

Ten Kopeks / Supercalifragilisticexpialidocious / The Hokey Pokey

Orchestrated By [Orch.] – Doug Besterman*Translated By [Supercalifragilisticexpialidocious, The Hokey Pokey Yiddish Translations] – Moishe Rosenfeld 

Written By – Traditional/Richard M. Sherman and Robert B. Sherman/Charles Mack, Taft Baker and Roland La Prise

Written-By – Charles Mack*, Richard M. Sherman, Robert B. Sherman, Roland La Prise, Taft Baker*, Traditional

2:19
7

Maria

Orchestrated By [Orch.] – 

Doug Besterma

n*Translated By [Yiddish Translation] – Miriam Kressyn Written-By – Leonard Bernstein, Stephen Sondheim

2:30
8

Yome, Yome

Written-By – Traditional

1:06
9

Paper Is White

Written-By – Traditional

2:36
10

Song Of The Titanic

Orchestrated By [Orch.] – 

Larry Hochma

n Vocals [Duet With] – Judy Blazer*Written-By – Joshua Rayzner

4:32
11

Motl The Operator

Orchestrated By [Orch.] – Michael Starobin Written-By – Chaim Towber, H. Solomonson

3:16
12

Under Your White Stars

Orchestrated By [Orch.] – 

Eric Stern (3

) Written-By – Abraham Brudno, Abraham Sutzkever

2:21
13

American Tune

Orchestrated By [Orch.] – Doug Besterman*Translated By [Yiddish Translation] – Henry Sapoznik Written-By – Paul Simon

4:17
14

Take Me Out To The Ball Game / God Bless America

Translated By [Yiddish Translation] – Henry Sapoznik 

Written By – Jack Norworth and Albert von Tilzer/Irving Berlin

Written-By – Albert von Tilzer, Irving Berlin, Jack Norworth

2:08
15

Der Alter Tzigayner / White Christmas

Translated By [White Christmas Yiddish Translation] – Moishe Rosenfeld Violin [Duet With] – Nadja Salerno-Sonnenberg 

Written By – Abraham Ellstein and Jacob Jacobs/Irving Berlin

Written-By – Abraham Ellstein, Irving Berlin, Jacob Jacobs

3:57
16

Oyfn Pripetshik

Written-By – Mark M. Warshawsky*
Product details
Audio Cassette (February 24, 1998)
Number of Discs: 1
Label: Nonesuch
ASIN: B000005J4U
---
More from this collection