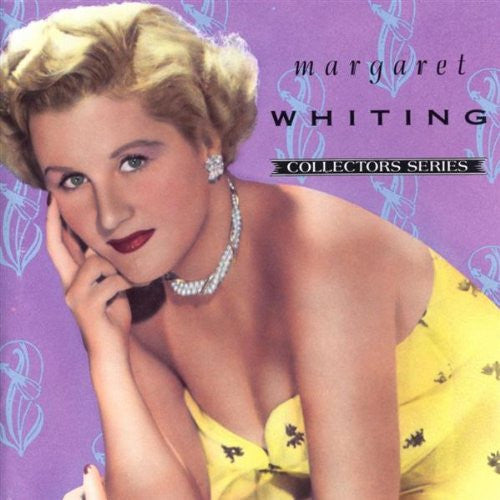 Margaret Whiting
Margaret Whiting - Margaret Whiting (Capitol Collectors Series)
Margaret Whiting (Capitol Collectors Series)

By Margaret Whiting
Very Good Condition
Margaret Whiting's entry in the Capitol Collectors Series was the place to go for her Capitol-era hits until it was deleted and replaced with the two-disc set The Complete Capitol Hits of Margaret Whiting. The latter collection is definitive but also more expensive, and contains more material than some buyers may desire. For that reason, the Capitol Collectors Series may be the preferred anthology for casual fans since it offers a handy distillation of her prime recordings. For collectors, the Capitol Collectors Series is noteworthy for two tracks that do not appear on the more recent collection: "The Party's Over," a recording previously unissued in the U.S. that originally appeared as the B-side of a Canadian single, and a humorous vintage radio advertisement for "Good Morning Mister Echo."
A Review:
I believe I heard Margaret Whiting's voice on the sound track of the movie, Trading Places and thought hers a lovely, natural clear and smooth voice. If you enjoy the fine music of the 1940's you will be pleased with this CD. Margaret recorded with many fabulous and famous big bands.
I am enjoying this CD very much.
Tracklist
1

That Old Black Magic

Orchestra – Freddie Slack

2

My Ideal

Orchestra – Billy Butterfield

3

Moonlight In Vermont

Orchestra – Billy Butterfield

4

It Might As Well Be Spring

Orchestra – Paul Weston (2)

5

All Through The Day

6

In Love In Vain

7

Come Rain Or Come Shine

8

Guilty

9

Oh, But I Do

10

Old Devil Moon

11

You Do

12

Pass That Peace Pipe

13

Now Is The Hour

14

A Tree In The Meadow

15

Far Away Places

16

Forever And Ever

17

A Wonderful Guy

18

Baby, It's Cold Outside

Vocals – Johnny Mercer

19

Slippin' Around

Vocals – Jimmy Wakely

20

Broken Down Merry-Go-Round

Vocals – Jimmy Wakely

21

Blind Date

Vocals – Bob Hope

22

A Bushel And A Peck

Vocals – Jimmy Wakely

23

Good Morning Mister Echo

24

The Money Tree

25

The Party's Over

26

Good Morning Mister Echo Radio Commercial
Product details
Audio CD (September 25, 1990)
Number of Discs: 1
Format: CD
Label: Capitol
ASIN: B000008M94
---
More from this collection