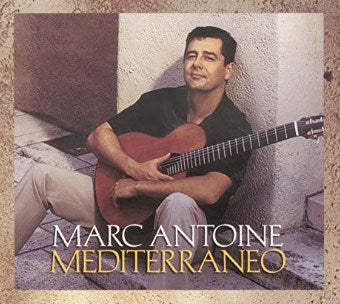 Marc Antoine
Marc Antoine - Mediterraneo
Mediterraneo
By Marc Antoine
Very Good Condition in original cardboard case
Where have I been, this is my 1st Marc Antoine CD!!! The songs were Upbeat & Slow, Smooth, Sexy, Romantic, Jazzy, Funky, Groovy, with its Latin Spanish guitar Flair, LOVED IT!!! You can definitely listen to this CD, in a romantic, intimate setting, while driving, sitting back while watching the sunset and even as background music during a dinner gathering/party.

My favorites; Love; Lady (upbeat sexy jazz), Mediterraneo (jazzy Spanish flair) and Castellana Hood & Gotham ((love both with its slow sexy groove). Really enjoyed; Cubanova (upbeat, smooth & sexy), Funky Picante (love the Latin flair), Afromenco & Senor Groove (both with a jazzy funky groove) and Preludio. I thought Gringo and Alejandro's Lullaby were just okay.

I think Marc Antoine is a very talented guitarist with his own individual Spanish Latin Jazz flair. It didn't matter to me if the songs faded or had an ending it all sounded good, I will definitely purchase more of Marc Antoine's CDs.
Tracklist
1

Cubanova

5:10
2

Funky Picante

4:56
3

Mediterraneo

4:01
4

Preludio

3:58
5

Castellana Hood

5:14
6

Afromenco

4:09
7

Señor Groove

4:35
8

Gotham

4:16
9

Lady

Written-By – Ben Watt & Tracey Thorn

3:45
10

Gringo

Written-By – Gwenael Barre, Marc Antoine

4:11
11

Alejandro's Lullaby

2:39
Product details
Audio CD (September 29, 2009)
Original Release Date: September 29, 2009
Number of Discs: 1
Label: Rendezvous
Run Time: 47 minutes
ASIN: B0000CABK4
---
More from this collection