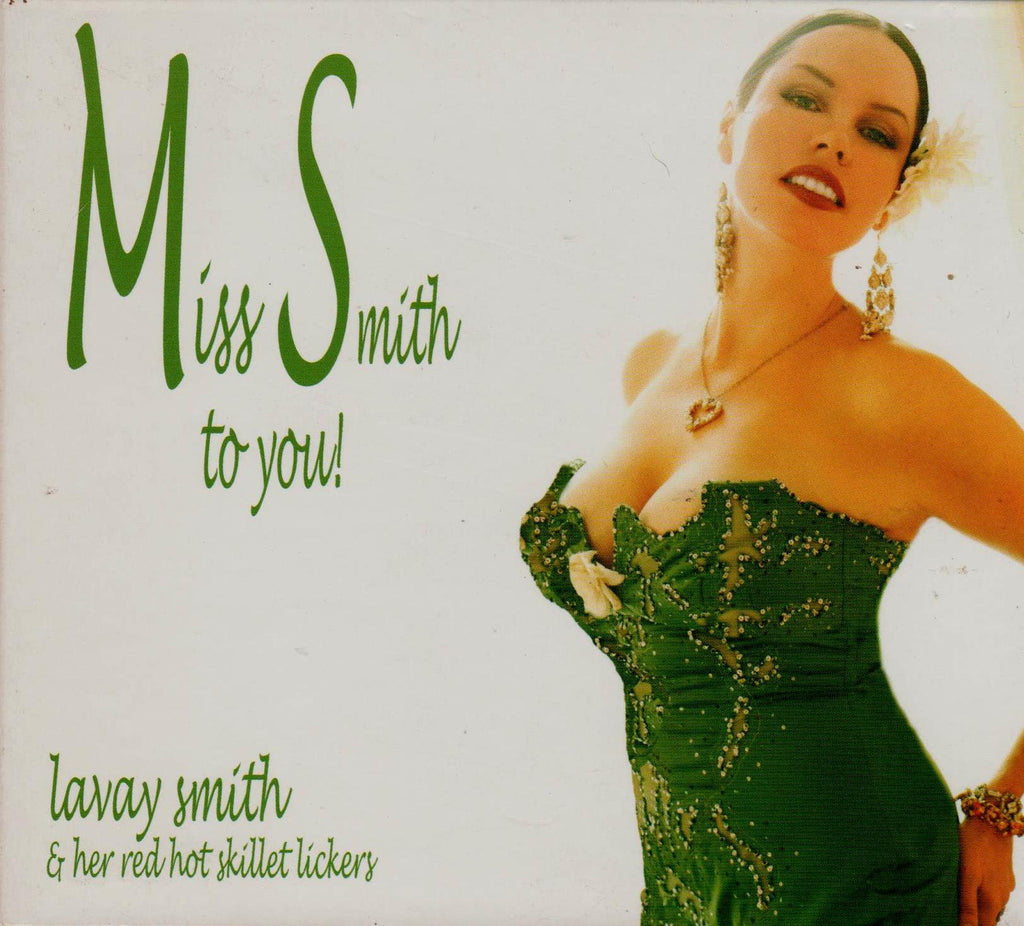 Lavay Smith
Lavay Smith - Miss Smith To You!
Miss Smith To You!
By Lavay Smith
Very Good Condition in original cardboard case
Miss Smith To You! is the third CD from the swingin' jazz vocalist Lavay Smith. Lavay's last album received a prestigious 4 & 1/2 star review in Downbeat magazine and reached the top 10 on the National Billboard Jazz Charts.
A Review:
Lavay Smith is sadly a rarity today. You will be very hard pressed to find another singer of her caliber anywhere. She brings you back to the day of Sarah Vaughn, Billie Holiday, and Ella Fitzgerald, when clubs and concert halls where filled when a songstress, backed by a big band could take a song and real make it her own and make you feel it, make you want to get up and dance to it, be it slow of fast.

"Miss Smith To You!" is Lavay Smith and Her Red Hot Skillet-Lickers third album, and it matches if not surpasses previous the previous efforts with a great selection of songs, superb performances, and quality production. The songs range from slow ballads to medium tempo swings. Through it all Miss Smith is able to show off her voice and personality.

So in conclusion, if this is a style of music you enjoy (Big Band/Vocal Jazz), I do not think this album will disappoint you. It has a great selection of classic songs, the music of a talented group of musicians and the voice of one of the few who can really pull it off. To me this album really is a complete package, and I hope you can enjoy it as much as I have.
Tracklist
1

Miss Brown To You

Written-By – Leo Robin, Ralph Rainger, Richard A. Whiting*

2

It Don't Mean A Thing

Written-By – Duke Ellington, Irving Mills

3

Daddy

Written-By – Chris Siebert, Lavay Smith

4

With My Man

Written-By – Chris Siebert, Lavay Smith

5

I'm Not Evil

Written-By – Chris Siebert, Lavay Smith

6

'Deed I Do

Written-By – Fred Rose, Walter Hirsch

7

I Ain't Got Nothin' But The Blues

Written-By – Don George, Duke Ellington

8

Boogie Woogie

Written-By – Count Basie, James Rushing*

9

On The Sunny Side Of The Street

Written-By – Jimmy McHugh & Dorothy Fields

10

Need A Little Sugar In My Bowl

Written-By – Clarence Williams, Dally Small, J.T. Brymn*

11

Jumpin' In The Morning

Written-By – Ray Charles

12

When TheSaints Go Marching In

Written-By – Traditional
Product details
Audio CD (September 22, 2009)
Number of Discs: 1
Format: CD
Label: Fat Note
ASIN: B002F3BOQO
---
More from this collection