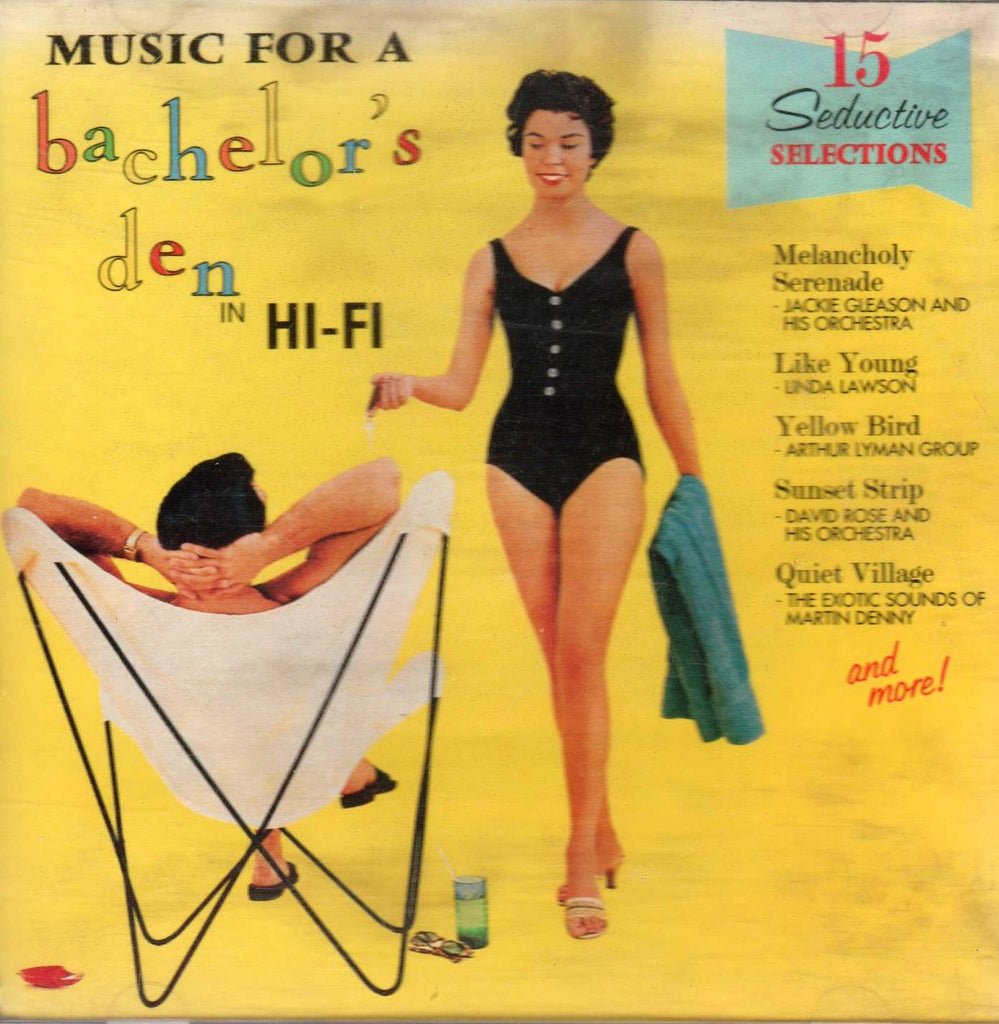 Various
Various Artists - Music for a Bachelor's Den
Music for a Bachelor's Den
By Various Artists
Very Good Condition
Space Age Bachelor's Den music of the '50s is cool, hip, with-it and the most!
So with this disc, relax, turn down the lights, make yourself comfortable and enjoy an evening in a bachelor's den.
A Review:
Compared to the other Ultra Lounge CDs in the series, "Music for a Bachelor's Den" is likely more what people were listening to @ the time, rather than the uniquely unusual pieces found on the other ones. The album starts, though, with a few "cool" versions of "Once In a While" (a bongo variation by Terry Snyder) & Arthur Lyman's take on "Love for Sale" (xylophone-lounge). One mistake here, though, is Jackie Gleason's "Melancholy Serenade" mistakenly titled 'Theme from the Honeymooners'. As another reviewer pointed out, this may be possibly more melodic but is no 'Honeymooners'. It is actually Gleason's theme for his live self-titled variety show of the early 50s, where the 'The Honeymooners' was popularized. But it's David Rose's "Sunset Strip" and Jimmy Dorsey's "So Rare" that really tear it up on this album, both very hot, hot, hot! The 50s standards adapted from film and TV, "Moonglow and Love Theme from 'Picnic'", "Around the World in 80 Days", & "Theme from 'Route 66'" not only push you right into that period, giving one a taste of what was actually popular at the time, but are probably some of the most entertaining and listenable pieces from these mediums. I, myself, have always had a big thing for all three. "Like Young", a bit of a "beat" tune, is possibly best sung, as it is here by Linda Lawson. "Moritat(A Theme from The Threepenny Opera)" is one of my favorites, though(popularly known as "Mack the Knife"), here an instrumental piece. This really illustrates the resurgence of the old music hall rag-piano sound of the late 50s-60s, perfectly complimenting this version.
Track Listings
  1. Once in a While - Snyder, Terry

  2. Love for Sale - Arthur Lyman Group

  3. You're Driving Me Crazy (What Did I Do?) - Gleason, Jackie&His

  4. Sunset Strip - Rose, David&His Orc

  5. Moonglow and Love (Theme from Picnic) [Long Version] - Stoloff, Morris

  6. As Long as I Live/Let's Live Again - George Shearing Qui

  7. Like Young - Lawson, Linda

  8. Theme from Route 66 - Riddle, Nelson&His

  9. Ill Wind - John Buzon Trio

  10. Quiet Village [Long Version] - Exotic Sounds Of Ma

  11. Yellow Bird - Arthur Lyman Group

  12. Moritat [A Theme from the Threepenny Opera] - Dick Hyman Trio

  13. So Rare - Dorsey, Jimmy

  14. Theme from the Honeymooners (Melancholy Serenade) - Gleason, Jackie&His

  15. Around the World (In Eighty Days) {from Around the World in 80 Days}

---
Product details
Audio CD (May 5, 1995)
Number of Discs: 1
Format: Compilation
Label: DCC Compact Classics
ASIN: B0000001A3
---
More from this collection