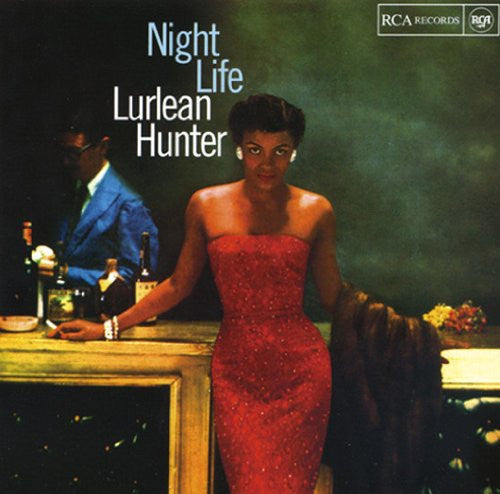 Lurlean Hunter
Lurlean Hunter - Night Life
Night Life

By Lurlean Hunter
Very Good Condition
A Review:
Lurlean did three LPs for RCA and one for Atlantic. She was a big star in Chicago and I think she was happy enough with that and the opportunity to record. Her model clearly was Sarah Vaughan (in fact there are similarities in their faces as well as voices) but she was no imitation or shadow. She was a full-fledged, top quality jazz singer, intelligent, perceptive, glamorous, with a beautiful voice, wide range, impeccable intonation and a lot of attitude. She was very admired by her fellow artists. This is a wonderful album, but then everything she recorded was wonderful.
A 2nd Review:
It can be awfully discouraging looking for recordings of vocalists who once struck you as stars whose light could never be extinguished. I've had better luck finding LPs of barely remembered (by the public) saxophone and trumpet players--somewhat of a surprise. Lurlean Hunter was class personified, a vocalist of relative fame in the Chicago-Milwaukee corridor. She selected her material with the utmost care and performed it to perfection. Perhaps she was too close historically to Janis Joplin to receive the due that would have been hers had she emerged earlier. A couple of other singers who practically fall into the same category are Marva Josie (still singing and looking good) and Chicago's Bobbi Wylson (what a privilege to catch her at the Back Room on Rush Street; what a misfortune that no live recorded set appears to exist).

At least we know that Lurlean is no longer with us (exactly what happened to her at the end remains a mystery). As long as a recording by her remains available, it should be considered a high priority by fans of the American Songbook and intelligent jazz singing. The presence of pianist Hank Jones and tenor saxophonist Al Cohn on this session makes it all the more attractive.
Tracklist
Georgia On My Mind

What A Difference A Day Made

Have You Met Miss Jones

That Old Feeling

It's The Talk Of The Town

Gentleman Friend

Night Life

It Could Happen To You

Moondrift

Sunday

Like Someone In Love

This Time The Dream's On Me
Product details
Audio CD (November 16, 2004)
Number of Discs: 1
Label: RCA Fs Imports
ASIN: B00005U8IP
---
More from this collection