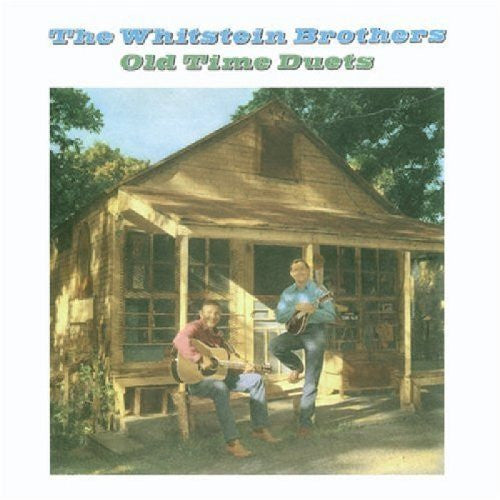 Whitstein Brothers
Whitstein Brothers - Old Time Duets
Old Time Duets
By The Whitstein Brothers
Very Good Condition
This album represents a return to basics, featuring mostly traditional material. The stark, lovely sound of the Whitsteins' voices is presented in all its glory with no other accompaniment than the brothers' own guitar and mandolin. A beautiful record, and a Grammy finalist.
A Review:
At first listen you'd think you were hearing an old Louvin Brothers recording 'cleaned up' by some miracle of modern recording technology. This is the real thing, all right, as far as this type of music goes -- but this is a present-day recording, clean and crisp like you've never heard on any of the classics.
That's as far as the Whitstein Brothers dip into modern technology, however -- much to the listener's delight. This cd presents -- just as the title implies -- old-time duets at their finest, unadorned and plain, accompanied by acoustic guitar and mandolin. The Whitsteins possess two of the finest voices you'll ever hear -- totally honest and unpretentious, and they hit every note right on target.
There's a little bit of everything from the genre here on this cd -- songs for mom and dad, songs of unrequited love, murder ballads, and, of course, some pure gospel. All are absolutely perfectly rendered, with obvious love, by these Louisiana natives.
The brothers have other albums available -- and all the ones I've heard are good. Most of the others include other musicians -- the fact that this disc features just the two brothers, with no evidence of any overdubbing, makes it my favorite. I honestly can't list a favorite tune -- I love them all. The only was to make it better would be to make it longer.
Tracklist
1

Mansion On The Hill

Written-By – Rose*, Williams*

2:18
2

We Parted By The Riverside

3:16
3

There's An Open Door Waiting

2:35
4

Sinner You'd Better Be Ready

Written-By – Charlie Monroe

1:51
5

We Met In The Saddle

2:48
6

I'm Troubled

Written-By – Gene Autry, Jimmy Long

3:08

 

7

Seven Year Blues

Written-By – C. Louvin*, I. Louvin*

2:16
8

Weary Lonesome Blues

Written-By – Alton Delmore, Rabon Delmore

2:34
9

Somewhere In Tennessee

2:45
10

Maple On The Hill

2:55
11

If I Could Hear My Mother Pray Again

3:18
12

Pitfall

Written By – Smith*, Tennessee Smith

2:02
13

Beautiful Lost River Valley

Written-By – Lacy Daugherty*

2:20
Product details
Audio CD (February 2, 2009)
Number of Discs: 1
Label: Rounder
Run Time: 39 minutes
ASIN: B0000002J7
---
More from this collection