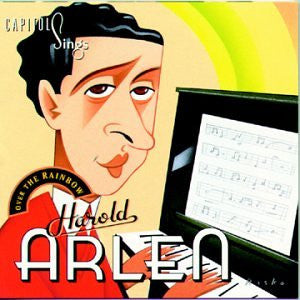 Harold Arlen
Harold Arlen - Over the Rainbow: Capitol Sings Harold Arlen
Over the Rainbow: Capitol Sings Harold Arlen
By Harold Arlen
Very Good Condition
A Review:
Capitol Sings, Vol. 13: Over the Rainbow - Harold Arlen is a fantastic compilation of great vocalists singing the best songs ever by Harold Arlen. You may not recognize his name at first; but you DO know his music. He wrote the music for "Over the Rainbow;" "Stormy Weather;" "That Old Black Magic" and more. The sound quality is excellent and the artwork is very nicely done.

Johnny Mercer & The Pied Pipers start things off with a great rendition of "Ac-Cent-Tchu-Ate The Positive." They sing this very well and "Ac-Cent-Tchu-Ate The Positive" is a highlight of this album. Peggy Lee sings a most romantic version of "Come Rain Or Come Shine;" Peggy never skips a beat and this impresses me greatly. Wow! Listen also for Keely Smith on "Stormy Weather;" Keely delivers this like the great chanteuse she really was and still remains. Keely really belts this one out! "Let's Fall In Love" also gets the royal treatment from Nat King Cole who delivers this with panache. Nat King Cole never sounded better!

Judy Garland sings `The Man That Got Away;" this eventually became one of her signature songs after she did the movie A Star Is Born in 1954; and Judy sings this with terrific sensitivity. She really belts this out! "Blues In The Night" from Dinah Shore also sounds fresh and new when I hear Dinah sing this so well; and the somewhat jazzy arrangement is both pretty and strong at the same time. "I've Got The World On A String" by Louis Prima gets a fine treatment; and this jazzy arrangement makes "I've Got The World On A String" a most wonderful highlight of this album.

"Happiness Is A Thing Called Joe" features Peggy Lee front and center--and that's quite all right by me! Peggy handles tempo and key changes effortlessly and this enhances the natural beauty of this tune. Nat Kind Cole also returns to sing "It's Only A Paper Moon;" this tune shines like silver and gold when Nat King Cole performs it so flawlessly.

Judy garland also returns to sing her signature song, "Over The Rainbow." This 1955 recording is probably the best example of this song that Judy ever professionally recorded--and that's grand! Betty Hutton sings "Hit The Road To Dreamland" with heart and soul; and the CD ends with Harold Arlen himself performing "Ac-Cent-Tchu-Ate The Positive." Harold wasn't exactly the best vocalist but it still makes a good ending to this tribute album to his talents.

This is a fine tribute CD to Harold Arlen. There are a few slight problems; I agree with the other reviewer who writes that they should have used Judy Garland's version of "Get Happy" on this CD. Lena Horne should have sung "Stormy Weather" although Keely Smith does do great justice to this tune. I will take off half a star for this minor flaw to make this a four and ½ star review.
Tracklist
1              –Johnny Mercer               Ac-Cent-Tchu-Ate The Positive 
2              –Peggy Lee         Come Rain Or Come Shine          
3              –Keely Smith     Stormy Weather             
4              –Nancy Wilson  When The Sun Comes Out          
5              –Dick Haymes    Between The Devil And The Deep Blue Sea        
6              –June Christy     As Long As I Live              
7              –Nat King Cole  Let's Fall In Love              
8              –Judy Garland   The Man That Got Away              
9              –Dinah Shore     Blues In The Night          
10           –Liza Minnelli     My Shining Hour              
11           –Louis Prima      I've Got The World On A String 
12           –Margaret Whiting          That Old Black Magic      
13           –Stan Kenton & His Orchestra* I Gotta Right To Sing The Blues  
14           –Peggy Lee         Happiness Is A Thing Called Joe
15           –June Christy     Get Happy         
16           –Nat King Cole Trio*       It's Only A Paper Moon
17           –Judy Garland   Over The Rainbow          
18           –Lou Rawls         One For My Baby (And One More For The Road)              
19           –Betty Hutton   Hit The Road To Dreamland        
20           –Harold Arlen    Ac-Cent-Tchu-Ate The Positive
Product details
Original Release Date: January 1, 1995
Release Date: September 11, 2007
Label: Capitol Records
Copyright: ℗ This Compilation 1995 Capitol Records Inc. © 1995 Capitol Records Inc.
Total Length: 1:00:45
Genres:
ASIN: B000WN48OO
---
More from this collection