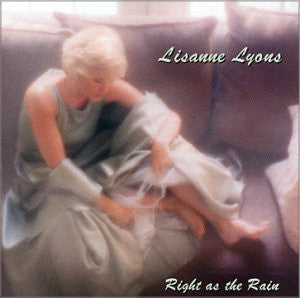 Lisanne Lyons
Lisanne Lyons - Right as the Rain
Right as the Rain
By  Lisanne Lyons
Very Good Condition
Lisanne Lyons steps out from her lead soprano role with the Uptown Vocal Jazz Quartet and surrounds herself with a world class big band and strings. These swinging arrangements and lush ballads are the perfect vehicle for Lisanne to display her powerful voice, extensive range and sophisticated style. Right as the Rain pays tribute to the late great Harold Arlen, one of America's most prolific composers of the twentieth century. This CD is packed full of great players such as Arturo Sandoval, Chip McNeill, Duffy Jackson, Ed Calle, and many others who have played and are still with Maynard Ferguson, Arturo Sandoval, Woody Herman Orchestra, Harry Connick Jr., and other great jazz bands.
The arrangements were written by some of the finest jazz arrangers today, Chip McNeill, Tom Garling, and Michele Weir. This powerful debut recording features Lisanne in a variety of musical settings and allows room to showcase some of these fabulous musicians. This is truely a collaberation of world class musicians, arrangers and a vocal delivery that posseses a true understanding and love for the art form.
About the Artist
Lisanne Lyons is currently the lead soprano for the Uptown Vocal Jazz Quartet and is Associate Professor of Music for Virginia Tech's vocal jazz program. Lisanne received her Master of Music degree (Studio Music and Jazz Performance) from the University of Miami (Fl), where she served as assistant director and lead soprano for the award winning "Jazz Vocal One" ensemble and featured vocalist for the nationally acclaimed "Concert Jazz Band." During that time she received the Down Beat magazine "Dee Bee" award for best jazz vocal soloist for two consecutive years.
Lisanne's career began immediately following high school as the featured vocalist for the Air Force bands. During her six years in the service she performed worldwide with the "Norad Command Band", Travis AF "Band of the Golden Gate", and the U.S. Air Force Academy "Falconaires". She has since been featured with the Woody Herman Orchestra, Maynard Ferguson Big Bop Nouveau, Arturo Sandoval, the University of Miami Concert Jazz Band and various bands across the the country. She has also performed with many of the world's top jazz artists such as Bobby McFerrin, Mark Murphy, the Four Freshman, Mose Allison, Jon Hendricks, and Darmon Meader.
Prior to accepting a Virginia Tech faculty position, she performed a year with the first national touring company of Cy Coleman's Broadway hit "City of Angels." With numerous performing, recording, and back up singing credits, she was also a featured performer with Joel Grey on the NBC TV Orange Bowl half-time show, "You'll Get a Kick Out of Cole."
Track Listings
  1. Come Rain or Come shine

  3. I've Got the World on a String

  9. When the Sun Comes Out

  10. What's Good About Goodbye

---
Product details
Audio CD (May 12, 2000)
Original Release Date: May 20, 2000
Number of Discs: 1
ASIN: B00004U1TK
---
More from this collection