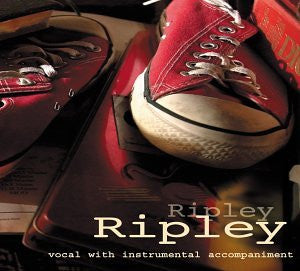 Steve Ripley
Steve Ripley - Ripley
Ripley
By  Steve Ripley
Very Good Condition in original cardboard case
A  Review:
If Steve Ripley's Martin D28 is indeed his only friend (as he writes in "Oklahoma Blues," one of ten wonderful songs on this, his latest, self-titled album), he's one of the lucky souls on earth to have such a good, faithful, trusted one. "Ripley" is many incredible things -- an album with actual songs, actual instruments, beautiful recording, soulful singing, easeful jamming, emotional breadth _and_ depth -- but it's easy to miss that it's also a fantastic, understated masterpiece of folk and blues and electric guitar-playing.
The playing and the mix almost bury the guitar work, but fortunately this is not a loud (i.e. compressed, flashy, show-off, technique-for-technique's sake) album; turn it up and listen closely and you'll hear guitars sing like they rarely seem to be able to do any more.
Steve does seem to have a large circle of warm-hearted friends, though, as each song here features accompaniment from a variety of folks, some known, some not known, all good. It all mixes wonderfully, and takes you back to a time when there was no music industry, just musicians, songwriters and people who like to play and sing -- and are actually good at it.
Almost every song is a classic here, from the deceptively cheerful rock of "Gone Away" to the truly sweet, memorable "Sweetheart Town" (salve for the soul of anyone chasing a dream), to the '50s-ish "Down, Down," to the gospel apocalypse of "The Round and Round." Most are Ripley originals, though a heart-rending performance of the '30s classic "No Depression (In Heaven)" points in a direction Steve could take a whole album with powerful result (it doesn't hurt that the next -- original -- song after holds up amazingly well alongside).
If you're looking for something real to share with a friend or loved one, definitely give this album a listen -- it'll put a lot of things in perspective.
I think Steve's got a whole new career ahead of him, if the news of this gem ever gets around -- watch out!
Tracklist
1

Gone Away

2

Night Time Lover

3

Too Many Borderlines

4

Mr. Jingle Jangle

5

Sweetheart Town

6

Oklahoma Blues

7

Down, Down (I Don't Believe You)

8

The Round And Round

9

No Depression (In Heaven)

10

Crossing Over
Product details
Audio CD (October 22, 2002)
Original Release Date: 2000
Number of Discs: 1
Label: Audium Entertainment
ASIN: B00006GOA9
---
More from this collection