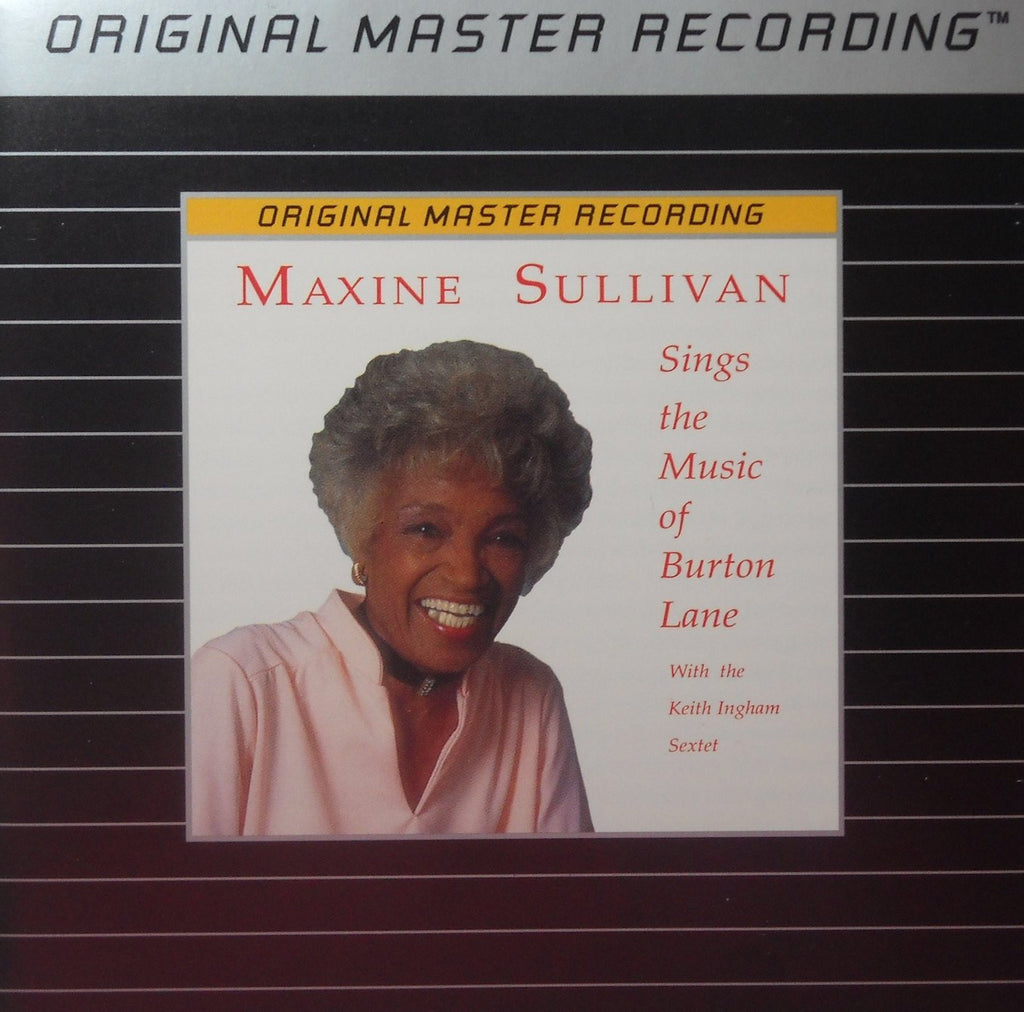 Maxine Sulliva
Maxine Sullivan - Sings The Music Of Burton Lane
Sings The Music Of Burton Lane
By Maxine Sullivan
Very good Condition
A Review:
Maxine Sullivan had a long career, interrupted by years bringing up a daughter and simply not singing. She had made many records, having a huge popular hit in 1937 with LOCH LOMOND, a jazz rendition of the traditional Scottish song. This was followed by swinging adaptations of other "traditional" Scots and Irish airs. Her backing groups were not always notable and early fame dwindled, but on the renewal of her career she made better musical partnerships, including a number of recordings with saxist/clarinettist/arranger Bob Wilber and her style developed wonderfully as she got older. In the several years before she died in 1986 she recorded with jazzmen who had come through the bop era and out of the other side in to swinging, melodic mainstream jazz. One such was with the Retro tenor sax man Scott Hamilton with whom she toured Japan in 1986 (Concord CDs). "Maxine Sullivan sings the Music of Burton Lane" is the second of three albums she recorded for the STASH label, in 1985. The others, also reissued by Harbinger records feature the songs of Harold Arlen and the songs of Jule Styne. On each one the musical arrangements are by pianist Keith Ingham who also led the companying groups.
Ingham was the Brit who left our shores in the 1970s to settle in the USA, playing fine solo piano, accompanying singers, leading groups and generally making a lot of devotees of the real stuff happy. His recording partnerships are many, but those with acoustic guitarist Marty Grosz are standouts of cheerful jazz. Grosz may be heard in the rhythm section of a few tracks here, with the odd few bars of intro and fill-in here and there. Musically, though, it is Ingham's show in support of Miss Sullivan, who has never sounded better. His piano playing (on a very mellow and tuneful instrument) is exemplary as are his arrangements. These showcase the singer, but allow appropriate solo time. Glen Zottola's trumpet is full toned but not brash and his extemporisations on the melodies impeccable. On some tracks listen for the velvety tones of Al Klink's tenor sax - a surprise if all you rem ember of him is trading tenor fours with Tex Beneke on Glen Miller's "In the Mood", for these are sensitive, moody jazz solos. For good measure, Phil Bodner on alto or clarinet turns up, too, and is perfectly suited to the proceedings.
But it's the singing that you love. Some singers started out great, like Billie Holiday, remained great for a few years and then sadly, declined. Others, like Ella Fitzgerald started out a bit raw, improved and improved and hit a high plateau. Sullivan seems to have kept her best until the last, finally shaking off the Loch Lomond syndrome and a somewhat inhibited small voice to become this rhythmic, stylish quiet swinging lady. On the faster number she does really keep right along pushing the beat, with an inflexion here, a slight slide there and little bends and accents to the melody that adds up memorable performances.
Some songs will be familiar, like Too Late Now, Everything I have is yours and How About You. Others come as a pleasant surprise. You will gather I enjoyed this. You are correct.
Track Listings
  1. The Lady's In Love With You

  2. How' Dja Like To Love Me?

  3. Everything I Have Is Yours

  6. On A Clear Day You Can See Forever

  8. How Are Things In Glocca Morra?

  13. Stop! You're Breakin' My Heart

  15. Where Have I Seen Your Face Before?

---
Product details
Audio CD (May 29, 2001)
Number of Discs: 1
Label: Harbinger
ASIN: B00000AFRB
---
More from this collection