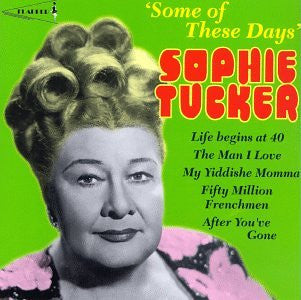 Sophie Tucker
Sophie Tucker - Some of These Days
Some of These Days
Bu   Sophie Tucker
Very Good Condition
Track Listings
A Review:
Before Bing & Louis came along in 1926 this was what most singers were like, this is a good example of better pop singing of the era. For some good pre-armstrong true jazz singing try Annette Hanshaw, but this is good vaudevillian style singing, with fine sound quality. Also of course try Louis Armstrong who practically invented jazz singing as an art, and don't forget the under-rated Bing Crosby who also sang jazz in the 20's. This Sophie Tucker CD in good, but try some of the other artists mentioned too.
  3. Fifty Million Frenchmen Can't Be Wrong

  9. He's A Good Man To Have Around

  10. When A Lady Meets A Gentleman Down South

  11. There'll Be Some Changes Made

  12. Washing The Blues From My Soul

  13. The One I Love (Belongs To Somebody Else)

  14. You've Got To See Mamma Ev'ry Night

  15. Aren't Women Wonderful?

  16. 'Cause I Feel Low Down

  18. Makin' Wicky-Wacky Down In Waikiki

  22. That Man Of My Dreams

  23. Foolin' With The Other Woman's Man

  24. (If You Can't Sing) You'll Have To Swing It
Product details
Audio CD (28 Oct. 1996)
Number of Discs: 1
Label: Flapper
ASIN: B000000WMJ
---
More from this collection