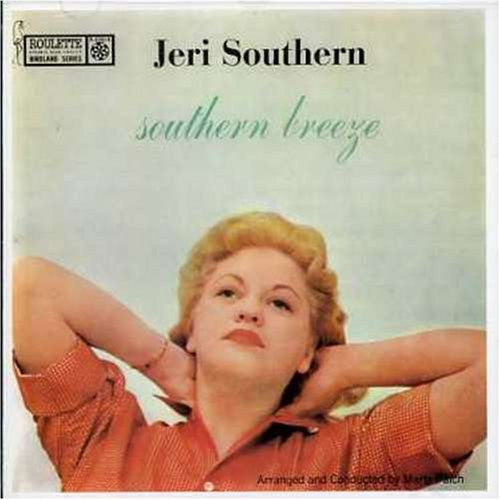 Jeri Southern
Jeri Southern - Southern Breeze
Southern Breeze
By Jeri Southern
Very Good Condition
One mark of a great jazz vocalist is the material she picks. Jeri Southern was one of the great students of jazz-era song, and the material she chose for Southern Breeze is strong in two ways -- they're not only great songs, but they're great for her. Never blessed with a strong voice, Southern instead realized the artistic advantages those qualities brought, and often chose torch songs or unlucky-in-love songs that accentuated her seeming weaknesses and everywoman qualities. With charts from arranger genius Marty Paich, Southern opens on a high note, the glib "Down with Love." Yet to come are happy yet forlorn choices "Who Wants to Fall in Love" and "Because He Reminds Me of You" -- Southern even finds the catch in "Crazy He Calls Me." And in true West Coast fashion, the music features brass that swings lightly and a dynamic range that frequently plumbs the depths (including tuba and baritone sax), all possible thanks to Paich's charts and able musicians including Georgie Auld, Don Fagerquist, and Bob Enevoldsen. Upbeat standards get their chance to shine as well -- "Ridin' High," "I Like the Likes of You" -- but most of Southern Breeze is gloriously melancholy
A Review:
Miss Jeri Southern is one of the most underrated Jazz Ladies of the 50's and early 60's... 'Southern Breeze' is a cool jazz record for those nice evenings when you want something mellow on, Jeri's warm vocals with some top arrangements from Marty Paich makes this cd a winner.
Tracklist
1. Down With Love;
2. Crazy He Calls Me;
3. Lazy Bones;
4. Who Wants To Fall In Love;
5. Then I'll Be Tired Of You;
6. Ridin' High;
7. He Reminds Me Of You;
8. Porgy;
9. Are These Really Mine;
10. Isn't It A Lovely Day; 1
1. A Warm Kiss And A Cold Heart;
12. I Like The Likes Of You.
Product details
Audio CD
Number of Discs:

 

1
Forma

t:

 Import
Label:

 

Roulette/Fresh Sound
ASIN:

 

B0007P89QA
---
More from this collection