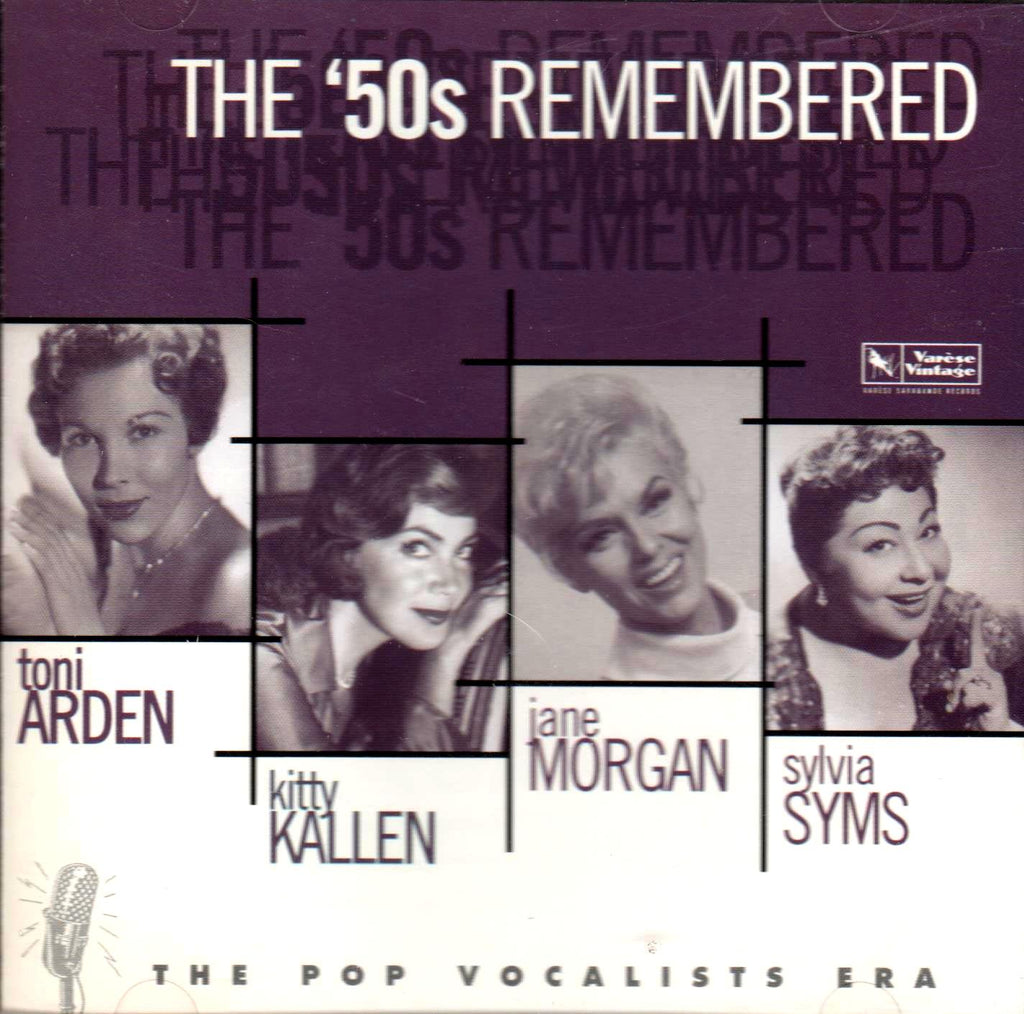 VARIOUS
Various Artists - The '50s Remembered, The Pop Vocalists Era: Toni Arden, Kitty Kallen, Jane Morgan, Sylvia Syms
The '50s Remembered, The Pop Vocalists Era: Toni Arden, Kitty Kallen, Jane Morgan, Sylvia Syms
By Various Artists
Good Condition
A Review:
As you can see, this CD focuses on four terrific songbirds who were quite popular in the fifties: Toni Arden, Kitty Kallen, Jane Morgan and Sylvia Syms. It's very good as far as it goes; but of course these four ladies were not the only successful songbirds who enjoyed fame and fortune at that time. This really should have been a two or three CD set with more recording artists on it. On the other hand, however, I must say that this album contains nothing but dazzling music; I certainly don't think that this album itself is a disaster zone. In addition, the quality of the sound is excellent. The artwork is also very nicely done.

The CD starts with a few numbers by Toni Arden. "Besame Mucho" has quite a strong musical arrangement; and Toni's rendition of this is most spirited and it all holds its own very well. "Non Dimenticar" showcases a very different side of Toni Arden, on this track she sings very sweetly with a great deal of sensitivity. Toni's voice is as clear as a bell and that's grand. Her sophisticated phrasing makes "Non Dimenticar" a highlight of this CD. In addition, Toni outdoes even herself on "Without Love (There Is Nothing);" "Without Love (There Is Nothing)" gets the royal treatment from Toni and her talent is abundantly clear when you listen to her sing this song.

We then get four songs performed by the magnificent Kitty Kallen. "Little Things Mean a Lot" was certainly one of Kitty's signature songs; she delivers this with panache and she never lets go of a superfluous note, either! "Little Things Mean a Lot" will always be one of my very favorite classic pop vocal tunes--it's so touching, I love it. "Are You Looking for a Sweetheart" features Kitty Kallen front and center--and that music fits in perfectly with Kitty's sublime vocals. "True Love" is very easy on the ear--what a classic love song this is! "In the Chapel in the Moonlight" also shines bright when Kitty sings it to perfection--and beyond!

"Fascination" was a song that will forever be associated with Jane Morgan; Jane sings this without a flaw and I'm very impressed. "With Open Arms" features Jane at her usual very best, too. "With Open Arms" has a fantastic melody and Jane makes it shine with her terrific interpretation of this ballad. "Two Different Worlds" has quite an elegant piano arrangement and Jane Morgan sounds just perfect--no wonder she will never be forgotten!

Sylvia Syms does a great job on "It's Good to Be Alive;" the backup singers harmonize faultlessly. Not that Sylvia needed backup; but they do sound pretty good anyway. "You Fascinate Me So" is very well done; and Sylvia's boisterous rendition of "I Could Have Danced All Night" from "My Fair Lady" shows how well she could turn out a fine show tune! "The Night They Invented Champagne" comes from "Gigi;" and Sylvia Syms performs this faultlessly.

Please make no mistake about it: Toni Arden, Kitty Kallen, Jane Morgan and Sylvia Syms were four very, very special, supremely talented songbirds and this album showcases their singing very nicely. While I wish that this was a two or three CD set with more variety, what we do get is nothing short of the most amazing music. Fans of these four ladies and classic pop vocals will enjoy this CD. It's a good CD for people just discovering this genre of music; and people who want a sampler type of CD would do well to add this to their collections, too.
Tracklist
1. Besame Mucho - Toni Arden

  2. Non Dimenticar (Don't Forget) - Toni Arden

  4. Without Love (There Is Nothing) - Toni Arden

  5. Little Things Mean A Lot - Kitty Kallen

  6. Are You Looking For A Sweetheart - Kitty Kallen

  7. True Love - Kitty Kallen

  8. In The Chapel In The Moonlight - Kitty Kallen

  9. Fascination - Kitty Kallen

  10. The Day The Rains Came - Jane Morgan

  11. With Open Arms - Jane Morgan

  12. Two Different Worlds - Roger Williams/Jane Morgan

  13. It's Good To Be Alive - Sylvia Syms

  14. You Fascinate Me So - Sylvia Syms

  15. I Could Have Danced All Night - Sylvia Syms

  16. The Night They Invented Chapagne - Sylvia Syms

---
Product details
Audio CD (February 11, 1997)
Original Release Date: February 4, 1997
Number of Discs: 1
Label: Varese Sarabande
ASIN: B00000150H
---
More from this collection