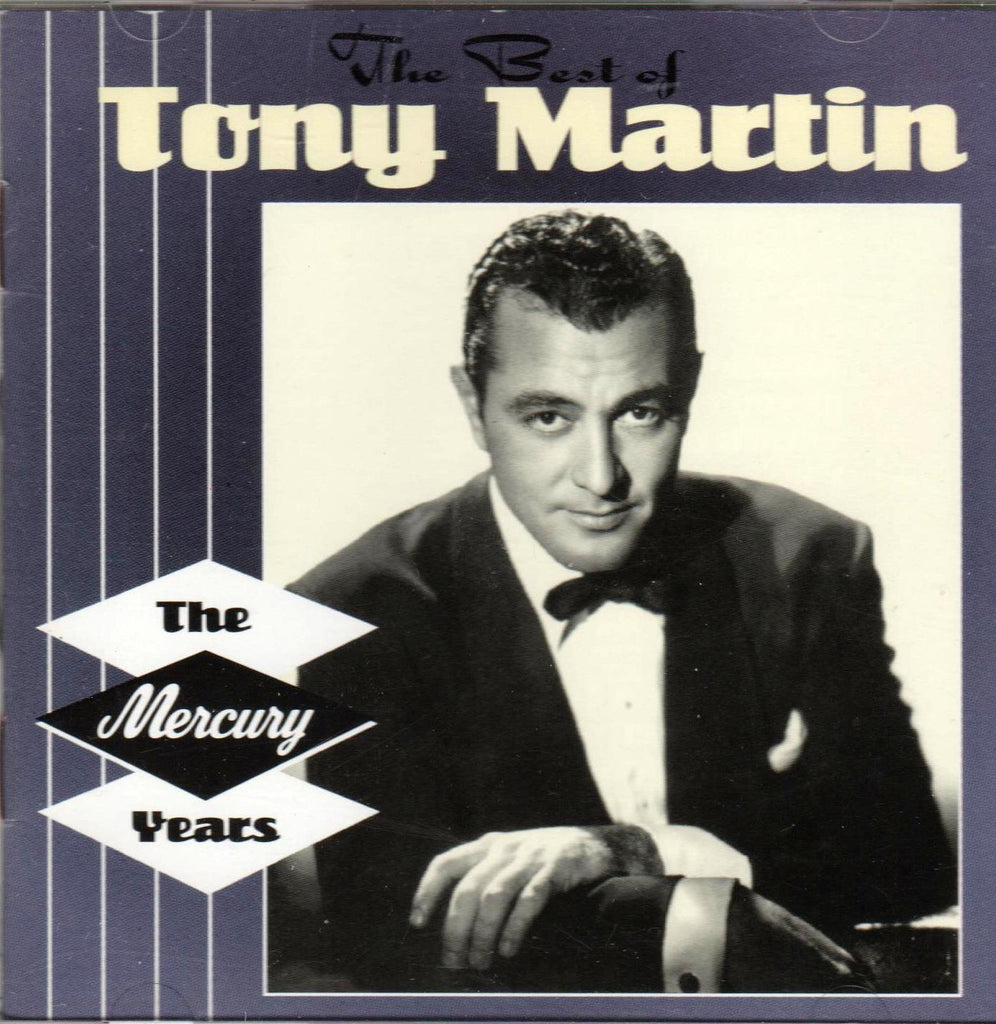 Tony Martin
Tony Martin - The Best of Tony Martin: The Mercury Years
The Best of Tony Martin: The Mercury Years Original recording remastered Edition 
By Tony Martin
Very Good Condition
The Best of the Mercury Years is a 25-track collection of Tony Martin's recordings for Mercury. The compilation contains every track Martin recorded for Mercury, including his hit "To Each His Own," making it the definitive retrospective of his tenure at the label. Even though the collection is complete and lovingly produced, it's concentration on one particular portion of his career makes The Best of the Mercury Years an adequete, but not perfect, introduction.
A Review:
Tony Martin is a magnificent singer. The 25 songs on this CD are mostly covers of romantic, slower tempo ballads like "Stardust" and "As Time Goes By." There is nothing to fault in Tony's gorgeous performances. However, the remastering leaves a lot to be desired. The tracks sound tired and scratchy.

If you're just starting a Tony Martin collection, you would probably prefer "The Best of Tony Martin on RCA." That one contains two disks with a nice mix of Tony's ballads and uptempo numbers (including more of his big hits), with brilliant sound quality.

If you already have the RCA set, then this CD, "Tony Martin The Mercury Years" would make a nice companion. I believe the only overlap between the two is "As You Desire Me." It's a shame that so much of the dynamic singing is lost in the poor quality of the recording.
Tracklist
1

To Each His Own

2

I Don't Know Why

3

A Gal In Calico

4

Dreamland Rendezvous

5

I'll See You In My Dreams

6

Without You

7

And Then Its Heaven

8

Guilty

9

Rumors Are Flying

10

As You Desire Me

11

I Never Loved Anyone

12

I Miss That Feeling

13

Sonata

14

If I Love Again

15

Years And Years Ago

16

I Kiss Your Hand, Madame

17

Stardust

18

Dreams Are A Dime A Dozen

19

Make Believe

20

All The Things You Are

21

Would You Believe Me

22

That Old Black Magic

23

Body & Soul

24

Tea For Two

25

As Time Goes By
Product details
---
More from this collection