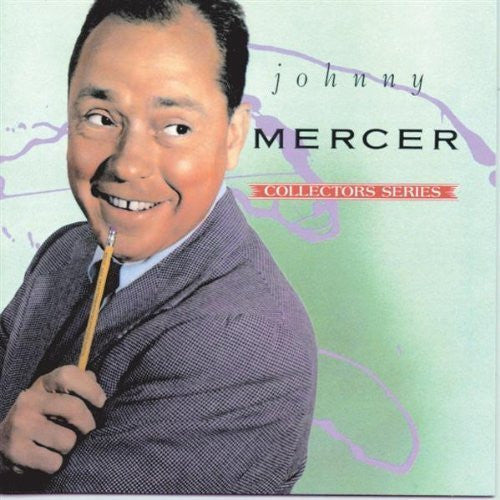 Johnny Mercer
Johnny Mercer - The Capitol Collector's Series by Johnny Mercer, Various Artists (1989) CD
The Capitol Collector's Series by Johnny Mercer, Various Artists (1989)
By Johnny Mercer
Very Good Condition
Johnny Mercer (1909–1976) was for popular music in the twenty-century's first half what Lennon–McCartney were in its second. You may never have heard Mercer's name, but you have heard someone sing his lyrics. (Fifteen years before his death, he and Henry Mancini won an Oscar for "Moon River.") The lads were from Liverpool; Mercer, from Savannah. Neither forgot his roots. In addition to talent, all had a smart sense of humor. (Look at some of Mercer's song titles: "Strip Polka," "Ac-Cent-Tchu-Ate The Positive," "On The Atchison, Topeka, And The Santa Fe.") Lennon–McCartney helped build Apple Records and got us through most of Viet Nam. Mercer helped build Capitol Records and pulled us through World War II.

"Johnny Mercer Collectors Series" places the gentleman at the microphone, where his smooth Southern baritone glides across some of his finest compositions ("Blues In The Night," "One For My Baby (And One More For The Road)"), and others that suit his style: "I Lost My Sugar in Salt Lake City"; "Save The Bones For Henry Jones ('Cause Henry Don't Eat No Meat)," accompanied by the Nat Cole Trio; and the finest cover I've ever heard of Frank Loesser's "Baby, It's Cold Outside," in duet with Margaret Whiting. By the way, Mercer discovered Whiting, Cole, Jo Stafford, Peggy Lee, and signed them all for Capitol. Lennon and McCartney never managed anything comparable.

Because some of these rare tracks were mastered from original lacquer discs, you can expect occasional surface noise. All tracks are in original mono. The arrangements, most from the '40s, are children of their era, but most were done by Paul Weston, whose sensibility was more sophisticated than many of his contemporaries'. As for Mercer's voice, he's no Sinatra. Who else is? Mercer has Everyman's voice, polished to a professional gloss. And because he wrote so many of this album's tracks, he certainly knew how they should be interpreted.

Of all of Ella Fitzgerald's classic Verve Songbook albums, only one (1964) was dedicated not to the composer but to the lyricist. That was Johnny Mercer.

This is truly a collector's item and a tribute to a charter contributor to The Great American Songbook. At this writing it offers twenty tracks at a price of under $8.00, without sacrifice of production quality.
Tracklist
1

Strip Polka

2

I Lost My Sugar In Salt Lake City

3

G.I. Jive

4

Blues In The Night

5

Ac-Cent-Tchu-Ate The Positive

6

Candy

Vocals – Jo Stafford

7

I'm Gonna See My Baby

8

On The Atchison, Topeka & The Sante Fe

9

Surprise Party

10

Personality

11

My Sugar Is So Refined

12

One For My Baby (And One More For The Road)

13

Zip-A-Dee-Doo-Dah

14

A Gal In Calico

15

Winter Wonderland

16

Moon Faced, Starry Eyed

17

Sugar Blues

18

Save The Bones For Henry Jones ('Cause Henry Don't Eat Meat)

Vocals – Nat King Cole

19

Glow Worm

20

Baby, It's Cold Outside

Vocals – Margaret Whiting
---
More from this collection