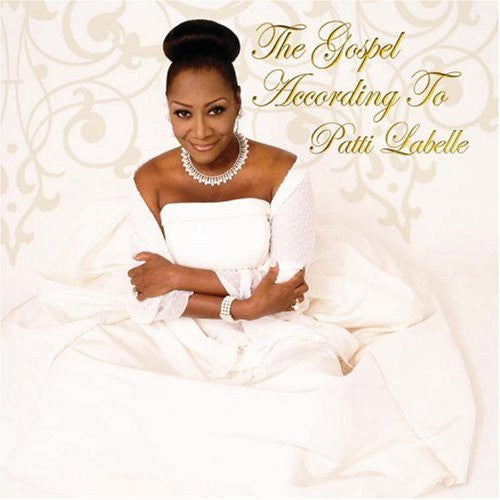 Patti LaBelle
Patti LaBelle - The Gospel According To Patti LaBelle
The Gospel According To Patti LaBelle
By  Patti LaBelle
Very Good Condition
The Gospel According to Patti LaBelle is the first gospel album released by singer Patti LaBelle, released in November 2006.
This project began three years ago [in 2016? It's 2019] when Patti's late musical director and close friend Budd Ellison told a skeptical LaBelle that "it's now or never, Patti." The album is dedicated to his memory as he succumbed to prostate cancer before the album saw a release.[4]
The album was released on November 21, 2006 through Music Veteran and Business Man Jheryl Busy's indie label Umbrella/Bungalow Records, also home to Carl Thomas, Rodney Jerkins, Dean "DC" Charles, and other artists. The Gospel According To Patti LaBelle features collaborations with Yolanda Adams, Mary Mary, Kanye West, Wynonna Judd, The Soul Seekers, Tye Tribbett, CeCe Winans and more. Production duties were handled by Gordon Chambers (who produced Patti's hit duet with Ron Isley, "Gotta Go Solo"), J. Moss, Scott "Shavoni" Parker, Troy Taylor, Gerald Haddon, Jon DeLise (also produced on Patti's Timeless Journey's Two Steps Away) and others.
The Gospel According To Patti LaBelle debuted on the U.S. Billboard 200 at number 86, selling about 18,000 copies in its first week.[5] The album peaked at #17 on Billboard's Top R&B/Hip-Hop Albums chart, and #1 on Billboard's Top Gospel Albums chart for 17 weeks.[6]
"Where Love Begins," a duet with Yolanda Adams was played frequently on R&B and gospel radio stations and debuted at #68 on Billboard's Hot R&B/Hip-Hop tracks. The second single "Anything" featuring Kanye West, Mary Mary and Consequence hit #64 on Billboards Hot R&B/Hip-Hop tracks.
Track listing
" Did You Pray Today (Michael O'Hara Sami McKinney) - (4:32)
" Where Love Begins (Denise Rich Gordon Chambers Rick Williams Troy Taylor) - (3:27)
" Anything (Gerald Haddon Nisan Stewart) - (4:44)
" Walk Around Heaven (Sami McKinney Nisan Stewart Eddie Brown) - (3:47)
" More Than He Loves You (Keisha N. Allen Paul D. Allen) - (3:56)
" God Ain't Through (Sami McKinney Warryn Campbell) - (4:54)
" I Just Love Him So (Denise Rich Kenny Moore Sami McKinney) - (4:43)
" Walking Away (Gordon Chambers Troy Taylor) - (3:52)
" My Everything (Sami McKinney) - (3:09)
" Anything (Gerald Haddon Nisan Stewart Kanye West) - (5:48)
" You Are My Best Friend (Armstead Edwards Budd Ellison Patti Labelle) - (4:52)
---
More from this collection