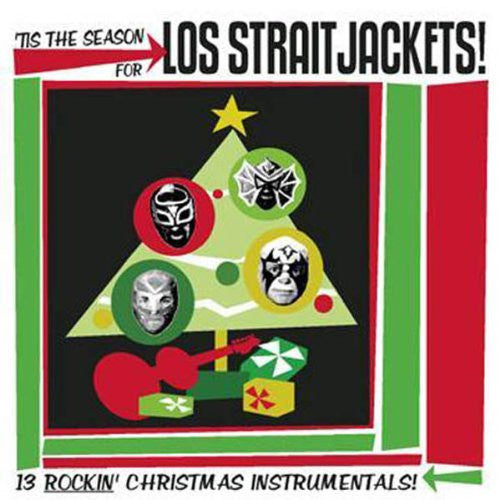 Los Straitjackets
Los Straitjackets - Tis the Season for Los Straitjackets
'Tis the Season for Los Straitjackets              
 Very Good Condition.
The hippest disc for the holidays! Trim the tree, stuff the stocking, and kick your shoes off for some Christmas rocking with the mighty Los Straitjackets! If you like your Egg Nog cut with a little Tequila, this is the record for you. America's instrumentalists make a joyful noise while deconstructing Christmas classics like 'Here Comes Santa Claus' and 'God Rest Ye Merry Gentlemen'. CD also includes the ultra-rare and classic Christmas 45 'Sleigh Ride' b/w 'Marshmallow World'.
If you're looking for someone to help you share the joy and magic of the holiday season, who better than the world's leading masked instrumental surf band? Los Straitjackets don't offer up a whole lot of surprises on "Tis the Season for Los Staritjackets, but that isn't necessarily a bad thing; Eddie Angel and Danny Arnis serve up lots of tasty guitar work, and Peter Curry and Jimmy Lester are one solid rhythm section, just as they've always been, and on these 13 tunes (11 covers and two originals) the lucha libre-obsessed guitar wranglers show off the smarts, humor, and sterling chops that have become their trademark. The "La Bamba"-accented "Feliz Navidad," a version of "God Rest Ye Merry Gentlemen" which channels the spirit of The Chantays, and the Ventures tribute of "Sleigh Ride" are highlights, and while this album will go over best with those who thrive on retro cool, this should send your next Christmas party into a state of dance fever with anyone who appreciates the era of enjoyable AM radio. How's the surf at the North Pole these days, anyway?
Track Listing
Here Comes Santa Claus
A Marshmallow World
Feliz Navidad
Jingle Bell Rock
Rudolph the Red-Nosed Reindeer
God Rest Ye Merry Gentlemen
Frosty the Snowman
Christmas in Las Vegas
Let It Snow
Sleigh Ride
Christmas Weekend
The Little Drummer Boy
The Christmas Song
---
More from this collection