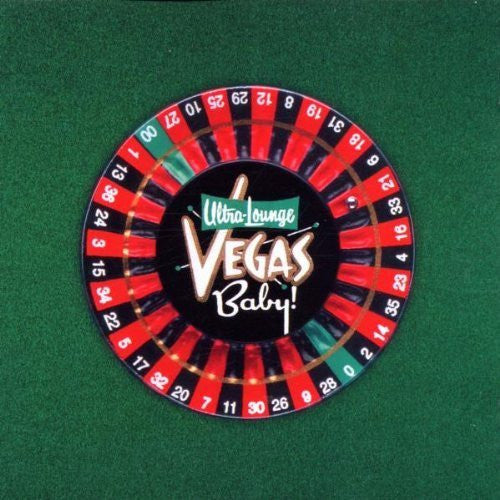 VARIOUS
Various Artists - Ultra Lounge: Vegas Baby! by Ultra Lounge (2002)
Ultra Lounge: Vegas Baby! by Ultra Lounge (2002) Audio CD
By Various Artists
Very Good Condition
A Review:
 The song selection isn't the greatest. It's interesting to hear some of these songs performed but instead of being reminded of the flashy and exciting Vegas, it feels a little second-rate like an off-strip slot parlor. I'm glad to have it and I'll listen to it again but I prefer Ultra-Lounge's Bachelor Pad Royale and the Wild Cool and Swingin 1 & 2 discs for a classy feeling.
2nd Review:
I love the Ultra Lounge series and was thrilled to find their Vegas compilation - right after my first trip to Vegas with a group of friends. The limited edition "fuzzy poker table" felt cover with 'real' roulette wheel is the greatest! IThe music instantly transports you to Vegas and the cool brat pack 1950s. Most albums have a track or two you want to skip, but I haven't found one yet on this CD! and the inside illustrations are groovy too. I play it at parties and everyone wants to know what is is (and to play with the roulette wheel). gave this CD as gifts for my whole group of Vegas trip pals this year. Enjoy!
Track Listings
  1. It Is Betting Time! - Ultra-Lounge: Vegas-Baby!

  2. With Plenty Of Money And You - Count Basie & Tony Bennett

  3. Something's Comin' - Vic Damone

  4. That Old Black Magic - Louis Prima & Keely Smith

  5. Danke Schoen - Wayne Newton With The Newton Brothers

  6. This Could Be The Start Of Something - Jack Jones

  7. Once In A Lifetime - Bobby Darin

  8. I'm Shooting High - Nat King Cole

  9. Lucky Day - Judy Garland

  10. Who's Got The Action - Dean Martin

  11. Games People Play - Mel Torme

  12. It's Not Unusual - Tom Jones

  13. On The Sunny Side Of The Street - Keely Smith

  14. Ain't That A Kick In The Head - Sammy Davis, Jr.

  15. Are You Having Any Fun? - Count Basie & Tony Bennett

  16. Night And Day - Steve Lawrence

  17. Big Spender - Peggy Lee

  18. Pennies From Heaven - Louis Prima

  19. Shangri-La - Wayne Newton

  20. Ace In The Hole (Live At The Flamingo) - Bobby Darin

---
Product details
Audio CD (September 17, 2002)
Number of Discs: 1
Label: Capitol
ASIN: B00006I0B2
---
More from this collection