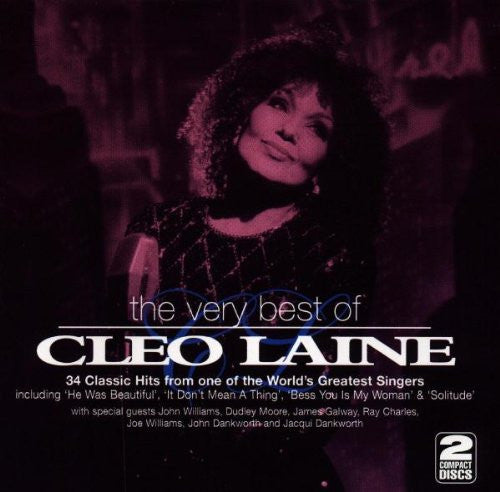 Cleo Laine
Cleo Laine - Very Best of Cleo Laine - 34 Classic Hits
Very Best of Cleo Laine - 34 Classic Hits
By  Cleo Laine
Very Good Condition
This two-CD set may be titled The Very Best of Cleo Laine: 34 Classic Hits but it is actually a lesser reissue. Drawing its material from Laine's RCA recordings of 1974-1996, the set is pretty light on jazz despite cameos from Clark Terry, Gerry Mulligan, Toots Thielemans and Joe Williams. While the occasional jazz tracks give one a feeling of relief, most of the reissue finds Laine backed by an orchestra, sounding like a Broadway or cabaret singer, occasionally going over the top with sentiment. While Laine has always had a beautiful voice and a wide range, she was never much of an improviser and her choice of material has been erratic through the years. So, next to swinging numbers such as "Just A-Sittin' and A-Rockin'" and "It Don't Mean a Thing," are forgettable show tunes and throwaway songs. Nearly all of the performances are over-arranged with little of value occurring outside of the sound of Cleo Laine's voice.
Track Listing - Disc 1
 1     He Was Beautiful       
2     I Loves You, Porgy           
3     No One Is Alone 
4     Birdsong (Sambalaya)           
5     Solitude           
6     Streets of London           
7     I Don't Know Why           
8     Send in the Clowns           
9     Dreamsville 
10   Gonna Get Through           
11   Skylark 
12   Creole Love Call           
13   What'll I Do?           
14   It Don't Mean a Thing (If It Ain't Got That Swing)           
15   You Must Believe in Spring           
16   Wish You Were Here (I Do Miss You)           
17   Bill           
Track Listing - Disc 2 
1     Lies of Handsome Men           
2     Play It Again Sam           
3     I'm Gonna Sit Right Down (And Write Myself a Letter)           
4     If           
5     Thieving Boy 
6     on't You Tell Me Why           
7     I Remember           
8     Just A-Sittin' and A-Rockin'           
9     Woman Talk           
10   Sophisticated Lady           
11   Music           
12   Bess, You Is My Woman Now           
13   My Man's Gone Now           
14   I'm Beginning to See the Light           
15   A Time for Farewell           
16   Turkish Delight           
17   Born on a Friday
---
Product details
Audio CD (May 20, 1997)
Original Release Date: May 20, 1997
Number of Discs: 2
Format: Import
Label: Sony Legacy
Run Time: 138 minutes
ASIN: B000003ETW
---
More from this collection