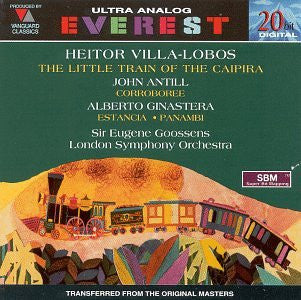 Hector Villa Lobos
Hector Villa Lobos - The Little Train of the Caipira / Antill: Corroboree / Ginastera: Estancia; Panambi
The Little Train of the Caipira / Antill: Corroboree / Ginastera: Estancia; Panambi
By   Hector Villa Lobos
Very Good Condition
Woof! This is the first "Ultra analog" Everest reissue to come my way, and the sound is simply stupendous! Vivid presence, great stereo definition, and despite some moderate tape hiss, it is hard to believe. They simply don't do recordings like that anymore. The recordings of the Antill piece and Ginastera's Panambi-suite were made in 1958 and released as Everest SDBR 3003 (the product information given on the booklet's back cover is not entirely accurate about this), Estancia was made apparently in the same year and published as 3014 with George Antheil's 4th symphony (see my review of the Bay Cities reissue, George Antheil ~ Symphony 4 / Morton Gould ~ Spirituals for Orchestra) and the Villa Lobos got its outing in 1960, paired with these same two Ginastera ballet-suites as 3041.

Primitivism in music is actually very sophisticated. You want it to be very loud, so it requires a complete symphony orchestra (and don't be stingy on drums and brass!). You want syncopations, so that requires using the resources of Broadway jazz rather than of the Western symphonic tradition. You want it to produce eerie, "primeval" sounds, and that requires lots of imagination in the use of your orchestral resources. All these faculties the three composers here represented have to spare.

Villa Lobos' Litle Train of the Caipira is actually the Toccata from his 2nd Bachianas Brasileiras (1933). It is a superb and brief (4:30) symphonic poem, graphically describing what its title designates. The composer got his inspiration from a train ride he took in 1931 on such a "puffing and chugging" country train transporting rural workers (the "Caipira" are the "yokels" or rustics) around Sao Paolo. It uses a wide array of percussion instruments, traditional (bass drum, snare drum, cymbals and the likes) and exotic. It belongs with Honegger's Pacific 231 to the great evocations of machines in music. And it's immensely fun ! One wonders why Walt Disney and Stokowsky passed that one for Fantasia.

I wasn't prepared for Antill's Corroboree. Somehow I had passed that one in the LP era, probably because I already had Everest 3041 with Villa Lobos and the two Ginastera ballets, and purchasing the Antill entailed duplicating Panambi. Having never heard of Antill, I guess I also assumed that he wasn't a very interesting composer, and that Corroboree was not a very interesting piece. Was I wrong! It is an extraordinary piece of musical noise, eerily starting with percussion beats and bassoon ominously playing in its lowest registers (remember the beginning of Ravel's left-hand Concerto?); then comes a jarring whiplash of strings, bass pizzicato and strucked bows, and soon it bursts out into discharges of violence. What it brings to mind (and the name's proximity is sheer coincidence) is George Antheil's famous and infamous Ballet Mécanique, as well as Mossolov's Iron Foundries - two pieces that until then I had thought to be unique in their kind. Funny how nothing sounds more like the musical evocation of machines than the musical evocation of primitive rituals. It is the same musical resources that are put at play: percussive power, obsessive pulse and eerie sonorities. But Antill is also capable of great sonic refinement, as in the "Dance to the Evening Star" and "Rain Dance", where the percussions (and string harmonics as well) are used not for sheer decibels but for their coloristic contribution. John Antill (1904-1986) was an Australian composer, more or less discovered through this very piece by Eugene Goossens when the conductor took over the Sydney Symphony Orchestra in 1946. Corroboree was inspired by an actual Australian aboriginal dance ceremony, and apparently, Antill is remembered only for that piece: there is hardly anything else from him available on the net. I wonder why.

In his two early ballet-suites the Argentinian Alberto Ginastera (1916-1983) hasn't yet found his own personal voice. He later shed his folk inspiration in favor of a modernist, neo-expressionist style of great power and drama, and became one of the most important Latin-American composers of the last fifty years of the last century. I discovered his music years ago through his magnificent Concerto per corde performed by Ormandy on CBS, sadly not reissued on CD (for another example of his later style, see my review of Symphony No.4/Milena). Yet, in the suites from Panambi (his Opus 1, composed in 1937) and Estancia Op. 8 (1941), he shows that he is already a master in the craft of orchestration. Panambi opens with a beautifully atmostpheric impressionism reminiscent of Ibert's Ports of Call, but other than this introductory movement, both Panambi and Estancia alternate between a subdued lyrical atmostphere almost verging on the effusive ("Lament of the Maidens" from Panambi, "Wheat Dance" from Estancia) and a brutal primitivism ("Invocation of the Powerful Spirits" and "Dance of the Warriors" from Panambi, "Land Workers" from Estancia) whose syncopations sound like a strange cross-breeding of Le Sacre and Bernstein's West-Side Story Jets and Sharks Dance. Again, funny how nothing sounds (musically) more like a primitive ritual than an urban street fight. Obviously the primitive never lurks far under the surface of the urban hoodlum.

These are all highly colorful and enjoyable compositions, in stupendous sound.
Track Listings
  1. The Little Train Of The Caipira: Toccata from Bachianas Brasilerias No. 2

  2. Corroboree - Suite From The Ballet: Welcome Ceremony (Witchetty Grub men, Emu Totem)

  3. Corroboree - Suite From The Ballet: Dance To The Evening Star (Thippa Thippa;Bell Bird people)

  4. Corroboree - Suite From The Ballet: A Rain Dance (Frog Totem;Fish men)

  5. Corroboree - Suite From The Ballet: Procession Of Totems

  6. Corroboree - Suite From The Ballet: Closing Fire Ceremony (Lace Lizard;Cockatto, Honey Ant, Wildcat;Small Fly Totems)

  7. Panambi - Suite From The Ballet: Moonlight On The Parana

  8. Panambi - Suite From The Ballet: Invocation Of The Powerful Spirits

  9. Panambi - Suite From The Ballet: Lament Of The Maidens And Rondo Of The Maidens

  10. Panambi - Suite From The Ballet: Dance Of The Warriors

  11. Estancia - Suite From The Ballet: Land Workers

  12. Estancia - Suite From The Ballet: Wheat Dance

  13. Estancia - Suite From The Ballet: The Cattleman

  14. Estancia - Suite From The Ballet: Final Dance, Malambo

---
More from this collection