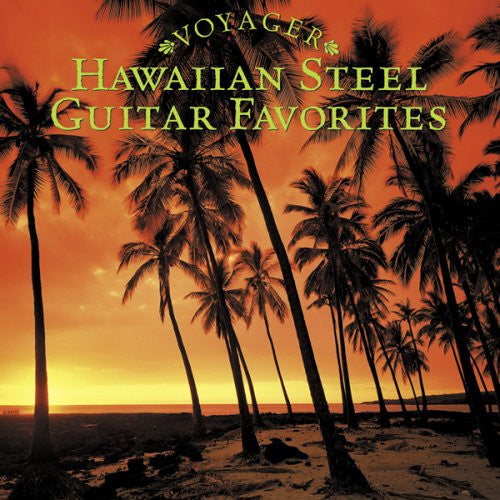 Voyager
Voyager - Hawaiian Steel Guitar Favorites
Hawaiian Steel Guitar Favorites
By   Voyager
Very Good Condition
A Review:
This CD is a fair collection of Hawaiian sounding songs played on a western pedal steel with a western rhythm section. No ukuleles or traditional Hawaiian tunings.
It is a CD of 90% Hapa Haole (Hawaiiian sounding songs written by mainlainders) played on Pedal Steel Guitar by a western style player.
Real Hawaiian Steel Guitar is played on a Non-Pedal Lap Steel and has a much more relaxed and slinky sound, with a more expressive vibrato. If you are looking for authentic Hawaiian steel, this CD is disappointing, if you just want something thats kinda Hawaiian sounding for background music between the bands at a party then this will fill the bill.
1

My Little Grass Shack

2:44
2

Pearly Shells

3:19
3

Blue Hawaii

2:51
4

Kanaka

3:24
5

Beyond the Reef

5:11
6

On the Beat at Waikiki

2:09
7

Lovely Hula Hands

2:33
8

Lovely Hula Hands

2:33
9

Sweet Leilani

2:56
10

Aloha Oe

2:41
11

I Am Hawaii

3:36
12

Hawaii Aloha

2:53
13

Paradise

2:51
14

Little Brown Girl

1:46
15

Hakilau

1:28
16

Hano Hano Hanalei
Product details
Audio CD (October 11, 2005)
Number of Discs: 1
Label: Columbia River Ent.
ASIN: B000AA7HME
---
More from this collection