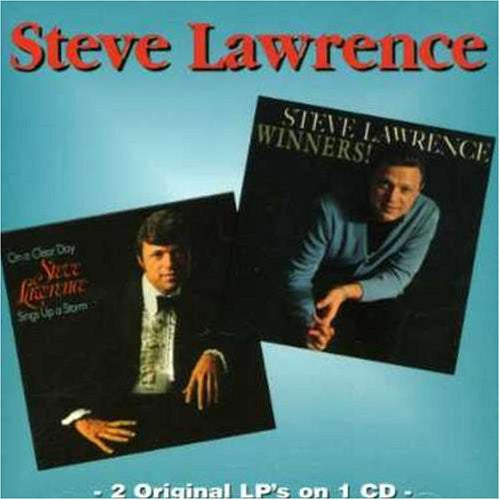 Steve Lawrence
Steve Lawrence - Winners / On a Clear Day
Winners / On a Clear Day   (Two Albums On One CD)
By   Steve Lawrence
Very Good Condition
A Columbia album and an RCA album on one disc? This unusual arrangement is possible because Steve Lawrence owns his master tapes and can do with them as he pleases. As a result, his label, GL Music, paired the 1963 Columbia album Winners! with On a Clear Day, a non-charting RCA Victor album from 1970. Winners! boasts the number one hit "Go Away, Little Girl," a contemporary song bordering on teen idol pop that isn't representative of the rest of the album. Apart from the incongruous pop-folk of "Cotton Fields," the prevailing sound is that of the traditional pop era as Lawrence sings songs old and new with strings and a big band. Winners! blends seamlessly into On a Clear Day, despite having been recorded several years earlier. On a Clear Day finds Lawrence applying his Frank Sinatra-influenced pipes to 11 songs from Broadway using a team of arrangers that includes Don Costa. "Mama, A Rainbow," a showstopper from the musical Minnie's Boys on which Lawrence delivers a soaring vocal performance, became a Top 40 easy listening hit. The disc was mastered from the original tapes, features brief liner notes by Lawrence himself, and is available through Lawrence's website at a premium price. ~ Greg Adams, Rovi
A Review:
This is an excellent CD from Steve Lawrence that has all of the numbers from two of his record albums entitled Winners! and On A Clear Day Steve Lawrence Sings Up A Storm. Steve's voice sounds just great; and we are all better off for his having shared his gift with us. I like that they used the original record album artwork when designing the overall artwork for this CD and the quality of the sound is excellent.

One number I really like is "Misty;" Steve sings this wonderfully and he never skips a beat, either! His voice is in excellent form and his excellent diction bolsters his performance all the more. The song gets a musical arrangement that isn't quite as lush as I'm used to hearing but it all holds its own very well. "Around the World" has a very spirited arrangement and Steve handles the complex tempo and key changes like the pro he was and always will be! Excellent! Similarly, "Who's' Sorry Now?" is a big hit that I always liked; Steve's rendition is sublime and that's grand. How's about that brass?

"It's Not for Me to Say" features Steve Lawrence squarely front and center; and that's quite all right by me! Johnny Mathis would be proud; Steve sings this with panache and the strings sound so good on this track. "Kansas City" has a fine piano arrangement as Steve sings this one very well; and "Go Away Little Girl" stuns me with its natural beauty. I think you'll like this version of "Go Away Little Girl" if you haven't heard it before. "Moon River" is easy on the ear; and "Teach Me Tonight" is a number I first heard sung by Dinah Washington. Dinah would surely approve of Steve's take on this ballad--it's all done so very well! The drums sound just right, too. "Volare" also showcases Steve Lawrence's exceptional talent as a vocalist; I love every minute of it.

"Try to Remember" from The Fantasticks gets the royal treatment from Steve Lawrence who delivers this with grace and sensitivity; this tune lacks nothing when Steve sings it--this music is all THAT good. "What Did I Have That I Don't Have?" has Steve delving deep into this ballad to make it extra bright; I always enjoy hearing Steve doing this one up right! "She Loves Me" has a somewhat Vegas sounding arrangement and Steve handles this dynamic number with finesse. "What Kind of Fool Am I" again has Steve in the spotlight; wisely the musicians never try to steal the show from Steve. Very classy! "On a Wonderful Day Like Today" also has that classic Vegas sound and Steve delivers this faultlessly The CD even ends wonderfully with Steve Lawrence performing a splendid interpretation of "People." "People" is meaningful and pretty; and it leaves me wanting more!

Fortunately for me and other Steve Lawrence fans, more is precisely what I can have because so many of Steve's wonderful record albums have been copied onto CDs. This is a must-have album for Steve Lawrence fans; and it even makes a fine starter CD for people just discovering the magical style of Steve Lawrence.
Track Listings
  5. It's Not for Me to Say

  14. Who Can I Turn To (When Nobody Needs Me)

  17. What Did I Have That I Don't Have?

  21. What Kind of Fool Am I

  22. On a Wonderful Day Like Today

---
Product details
Audio CD (September 13, 2005)
Number of Discs: 1
Label: Gl Music Co.
ASIN: B000AM6OX0
---
More from this collection