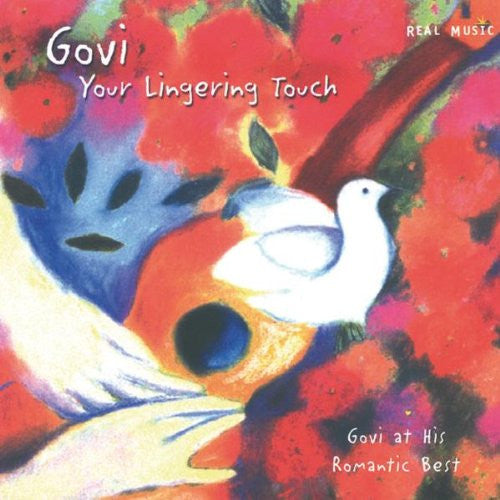 Govi
Govi - Your Lingering Touch
Your Lingering Touch:
By  Govi
Very God Condition
Easy-listening music doesn't come much easier than the uncomplicated melodies on this undemanding yet pleasant showcase for German guitarist Govi. Your Lingering Touch features a dozen contemporary instrumentals from five previously released recordings. The collection focuses mainly on slow and midtempo works in which Govi stirs up soft clusters of chords and nudges them along with gentle, understated embellishments. The mix includes a subdued samba ("Sangria"), a hint of blues ("Lover's Moon"), traces of Spanish music ("Torero"), the Mark Knopfler-like "Sailing Away," and the highpoint, the mind-wandering title track from his 1988 LP Sky High. While it may be a bit sugary in places, Govi's music is earnestly performed, easy-to-digest guitar music that sets and sustains a congenial mood. --Terry Wood
About the Artist
Every so often, a musician emerges who is quite unlike any that have come before; a musician that reflects not an imitation of styles and tones, but who embodies the entire spectrum of styles in such a unique way that "categorizing" is impossible. Guitarist Govi (go' vee) is one of those artists.
A native of Germany, Govi spent eight years living in India. "My approach comes from the meditative and creative environment I experienced while living in India as well as playing with musicians from many different cultures and backgrounds," he says. It was there that Govi started playing the mandolin, mandola cello, sitar, bouzouki, charango and the 8-string ukulele. While in India, he also established a friendship with prominent German new age artist, Deuter. Their mutual admiration and respect led to Deuter co-producing Govi's debut album Sky High throughout which Deuter can be heard playing flutes and keyboards.
Govi became fascinated with the guitar very early in life when he simply walked past one in a store window and decided that was the instrument he wanted to play. In his teens, Govi performed as the lead guitarist in bands that played everything from rock to blues, including early Beatles and Pink Floyd. These experiences led to his first professional gig as a member of a group that played original material and won a national band competition and a recording contract which allowed them to tour throughout Germany.
Your Lingering Touch, 7th release from Real Music, represents the spectrum of Govi at his most romantic, while the 6th No Strings Attached is a celebration of Govi at his exuberant best -- on Billboard's New Age Chart for over a year. Guitar Odyssey was his fifth release for Real Music, another chart favorite, following the highly successful Passion & Grace, Heart of a Gypsy, Sky High and Cuchama.
Govi describes his compositions as "the natural and inevitable result of moving deeply into the wellsprings of my creativity. My music is a reflection of my vision of life rather than mere notes on a sheet," he adds. The result is a deeply mystical quality that is both jubilant and pensive, music that ultimately reflects the dimensions of the human spirit in all its complexity and simplicity.
Judging from the accolades, fans are being taken to new heights of their own by Govi's uplifting melodies. Currently living in Hawaii, Govi contends that the overwhelming response he has received from listeners worldwide is heartening and keeps him going.
Tracklist
1              Tears Of Joy       5:20
2              Magellan's Beat                5:40
3              Sailing Away       6:04
4              Your Lingering Touch      4:23
5              In Harmony        5:00
6              Sangria 5:25
7              Lover's Moon    3:36
8              Torero  5:07
9              Sky High               5:57
10           New Dawn          6:34
11           Spring In The East            1:51
12           Amber Waves   3:20
Product details
Audio CD (June 5, 2001)
Number of Discs: 1
Label: Real Music
ASIN: B00005K9SX
---
More from this collection