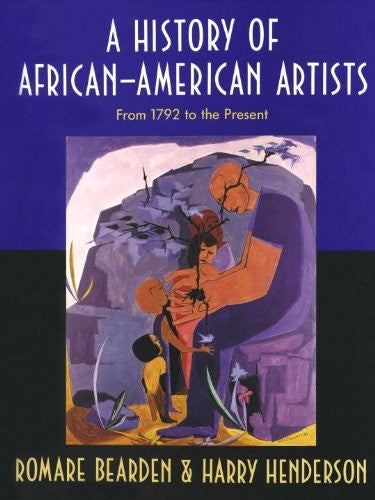 Romare Bearden - Harry Henderson
A History of African-American Artists: From 1792 to the Present - By: Bearden & Henderson
A History of African-American Artists: From 1792 to the Present
By: Bearden & Henderson
Cood Condition: (EXCEPT FOR MISSING DJ. THIS BOOK IS IN VERY GOOD CONDITION. Obviously lightly read. Remainder marks on top and the bottom page outer edges. Clean, Crisp, Bright text pages. Cloth Cover shows is in GOOD condition. Solid Binding.)
A landmark work of art history: lavishly illustrated and extraordinary for its thoroughness, A History of African-American Artists -- conceived, researched, and written by the great American artist Romare Bearden with journalist Harry Henderson, who completed the work after Bearden's death in 1988 -- gives a conspectus of African-American art from the late eighteenth century to the present. It examines the lives and careers of more than fifty signal African-American artists, and the relation of their work to prevailing artistic, social, and political trends both in America and throughout the world.

Beginning with a radical reevaluation of the enigma of Joshua Johnston, a late eighteenth-century portrait painter widely assumed by historians to be one of the earliest known African-American artists, Bearden and Henderson go on to examine the careers of Robert S. Duncanson, Edward M. Bannister, Henry Ossawa Tanner, Aaron Douglas, Edmonia Lewis, Jacob Lawrence, Hale A. Woodruff, Augusta Savage, Charles H. Alston, Ellis Wilson, Archibald J. Motley, Jr., Horace Pippin, Alma W. Thomas, and many others.

Illustrated with more than 420 black-and-white illustrations and 61 color reproductions -- including rediscovered classics, works no longer extant, and art never before seen in this country -- A History of African-American Artists is a stunning achievement.
Product details
Hardcover: 560 pages
Publisher: Pantheon; 1st edition (October 26, 1993)
Language: English
ISBN-10: 0394570162
ISBN-13: 978-0394570167
Product Dimensions: 9.3 x 1.6 x 12.4 inches
Shipping Weight: 5 pounds
---
More from this collection