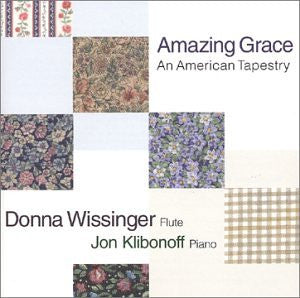 Donna Wissinger - Jon Klibonoff
Donna Wissinger & Jon Klibonoff - Amazing Grace, An American Tapestry
Amazing Grace, An American Tapestry
By Donna Wissinger & Jon Klibonoff
Very Good Condition. (Includes jewel case, CD, original artwork, all in very good condition..)
Flutist Donna Wissinger has been recognized as a dynamic young international star whose concerts include much acclaimed recitals on the mainstages of Carnegie Hall and the Glinka Capella, recital tours of Europe and the USA, and a highly successful tour throughout several republics of the former Soviet Union. The New York Times states "No production should be without an onstage Miss Wissinger" and audiences everywhere are captivated by her beautiful and communicative playing, her charismatic stage presence, and her obvious love and enthusiasm for her art.
 Donna Wissinger made her New York recital debut at Carnegie Recital Hall in 1984 and subsequently played recitals in New York under the auspices of Artists International, whose Distinguished Artist Award she won in 1986 and 1988. Miss Wissinger was awarded a scholarship to the prestigious Mozarteum in Salzburg; her teachers have included Julius Baker and Jean-Pierre Rampal. She was selected by Musical America as "'Young Artist of 1986" and her 1989 recital at Merkin Concert Hall was broadcast by National Public Radio. Miss Wissinger's international appearances include recitals in Florence, Graz, Munich, Salzburg, Pads, Moscow, Tbilisi, Kiev, St. Petersburg, and Cairo. Her much acclaimed recitals in the former USSR were broadcast on radio and television stations across that nation.
 This versatile artist regularly tours the Mid-West and East Coast in recital and with orchestra, presents masterclasses, and has appeared as Artist-in-Residence at colleges and festivals throughout the US. Miss Wissinger is a member of Associated Solo Artists and a principal artist in that organizations educational (The Learning Arts) and corporate (Creative Leaps International) programs as well as in the chamber ensemble The Classic Apple. She is also on the rosters of The Florida Touring Program and Florida's Artists Residency Directory.
 A firm believer in life-long and interdisciplinary learning, Donna Wissinger is a USPTA teaching professional, a Licensed Neuromuscular Massage Therapist, a marathon runner, and a published poet. She has been featured on National Geographic's Discovery program Bicycle for her Bicycle/Flute tour TOP FORM, the Mazda/Orange County Performing Arts Center 1992 Triathlon, and on numerous television and radio shows in the USA and Europe. Miss Wissinger's professional development programs in creativity and interdisciplinary learning have been part of training programs for GE, McDonnell Douglas, the US Government, Pfizer, The Center for Excellence, and teacher training in FL and the Northeast. She was recently a Leader Lab speaker at the Reinvention Revolution Conference in Washington, DC, and an annual speaker at the ACE/FAAE Summer Leadership Conferences in Florida. She is a founder and principal artist in the Orlando New Music Ensemble. Miss Wissinger is a leader in Youth Development Through the Arts nationally and is co-author of the ACE/FAAE Florida Model Program Tool Kit for artists and educators.
 Amazing Grace: An American Tapestry is a tribute to the multi-faceted American identity and the grace that freedom affords a people and their art. Sister Ann Lee, founder of the American Shakers is reputed to have said, "Every force evolves a form." The force of the varied and awe-inspiring landscape of the United States, and the passions, beliefs, concerns, and free will of the people have formed American music.
Track Listings
Disc: 1
Simple Gifts
Duo: Flowing
Duo: Poetic, Somewhat Mournful
Duo: Lively, With Bounce
Duo: Pleasant Song No.1
Duo: Pleasant Song No.2
Duo: Canzone
Three Dances: Andante
Three Dances: Adagio, Quasi Improvisatory, Tempo Rubato
Three Dances: Allegretto
Ste Modale: Moderato
Ste Modale: L'istesso Tempo
Ste Modale: Allegro Giocoso
Ste Modale: Adagio
Ste Modale: Whales Weep Not!
Ste Modale: Somewhere (West Side Story)
Ste Modale: Polka And Can-Can
Ste Modale: Orange And Blue Rag
Ste Modale: Old Folks At Home
Ste Modale: Oh, Boys, Carry Me 'Long
Ste Modale: Bayou Home
Ste Modale: Amazing Grace
Ste Modale: A Simple Gift
---
More from this collection