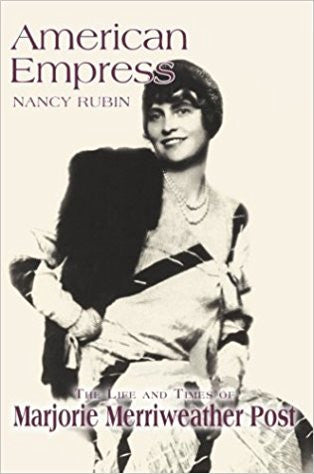 Nancy Rubin
American Empress: The Life of Marjorie Merriweather Post - By Nancy Rubin
American Empress the Life of Marjorie Merriweather Post.  
By Nancy Rubin
VERY GOOD TO LIKE NEW CONDITION .(SIGNED AND INSCRIBED BY NANCY RUBIN STUART TO THE FORMER OWNER. )
A sweeping social history that readers of bestsellers will love, American Empress chronicles the story of Marjorie Merriweather Post--the force behind the growth of General Foods--in an irresistible rags-to-riches saga that captures the age of opulence. 16 pages of photos. Ties in with the A&E documentary. 1995
American Empress is a sweeping history of the dramatic life of heiress Marjorie Merriweather Post, daughter of breakfast-cereal magnate C. W. Post. As a young girl growing up in the Midwest, Marjorie Post helped glue cereal boxes in her father's barn, later became a board member of his company, wed a diplomat and by late middle age was widely acknowledged as the unofficial "Queen of Washington, D.C." The glamorous and warm-hearted Mrs. Post was also mother to actress Dina Merrill. Throughout her life, she gave generously to hundreds of civic, artistic and philanthropic causes, among which were the National Symphony Orchestra, the Washington Ballet and the Kennedy Center. By virtue of her brains, beauty and great wealth, Mrs. Post was a woman well ahead of her era, whose natural business acumen created the frozen foods industry and transformed the Postum Cereal Company into the General Foods Corporation.
Editorial Reviews
From Publishers Weekly
This entrancing biography of Marjorie Merriweather Post (1887-1973)-socialite, businesswoman, Palm Beach, Fla., pacesetter, opulent Washington hostess, philanthropist-is full of high drama, gossip, scandal and international political intrigue. Her father, C.W. (Charles William) Post, cured of "invalidism" at the Battle Creek, Mich., sanatorium of Dr. John Kellogg (inventor of packaged breakfast cereal), went on to develop Postum, a coffee substitute, and Post Toasties cereal. When C.W. killed himself in 1914, Marjorie, his only child, became sole heir of the Postum Cereal Co. With her sexually unfaithful second husband, stockbroker E.F. Hutton, Postum acquired Clarence Birdseye's frozen foods company, General Foods, which, partly through Post's influence as a board member, diversified into a food empire. Her third husband, Washington lobbyist Joseph Davies, became FDR's ambassador to the Soviet Union and helped cement the Soviet-U.S. alliance against Hitler. While living in Russia, Post was appalled at the Soviet police state. She divorced fourth husband Herbert May, a Pittsburgh executive, after a blackmailer's photographers revealed his homosexuality. Rubin, a frequent contributor to the New York Times, limns a warm, generous Christian Scientist, an imperious, perfectionist mother of three daughters, a down-to-earth woman who held square-dance parties and peppered her speech with expletives. Photos not seen by PW. First serial to Town & Country.
 From Library Journal
Rubin (Isabella of Castile, LJ 10/15/91) here delivers a sympathetic yet balanced biography of one of the 20th century's wealthiest women. Post inherited her fortune at the age of 27 from her father, C.W. Post, an early leader in the dry cereals industry. Her event-filled life, which included four marriages and dealings with many of the world's business and political leaders, was characterized both by generosity and extravagance. By contemporary standards, the role she played in shaping the development of General Foods seems less than extraordinary but was progressive by the standards of her day. Rubin successfully portrays the many facets of Post's life (philanthropist, socialite, mother, wife) and the high-society world in which she lived. A work with general appeal; recommended for popular history and business collections.
Mark McCullough, Heterick Lib., Ohio Northern Univ., Ada
 Product details
Paperback:480 pages
Publisher:iUniverse (January 4, 2004)
Language:English
ISBN-10:0595301460
ISBN-13:978-0595301461
Product Dimensions: 6 x 1.2 x 9 inches
Shipping Weight:6 pounds
---
More from this collection